Media reports: Sovereign wealth fund wants up to 10% stake in Daimler AG
China Investment Corp, or CIC, is to balance out its portfolio this year, as a China-led global recovery mitigates risks, said CIC Chairman Lou Jiwei on Monday.
The nation's sovereign wealth fund wants to stick closely to its investment guidelines after it "under-bought" in Europe and "over-bought" in the United States and emerging markets in 2012 in response to global economic uncertainties.
"Our view is that 2013 will see a slow recovery ... but there won't be bright highlights, so we have decided to go back to having balance," said Lou at the annual Asia Financial Forum in Hong Kong.
Lou said the CIC will invest more in manufacturing, real estate and infrastructure. In a display of CIC's new interest in manufacturers, media reports last week said that it plans to buy a 4 to 10 percent stake in the German automaker Daimler AG. It has also bid for an 800 million pound ($1.3 billion) London office complex, in what could be the United Kingdom's highest-value property deal since the start of the financial crisis.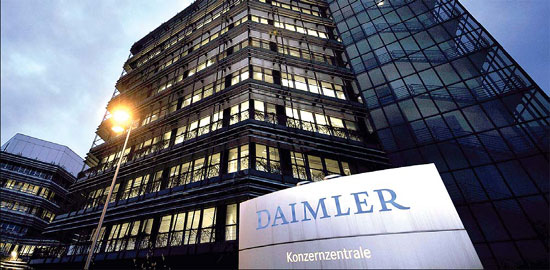 German auto giant Daimler AG's Mercedes Benz plant in Untertuerkheim, Germany. Media reports said last week that China Investment Corp plans to buy a 4 to 10 percent stake in the German automaker. [Provided to China Daily]
Positions on the financial services industry and commodities will be discussed.
CIC was established in 2007 by the Ministry of Finance, which issued 1.55 trillion yuan in special bonds to acquire around $200 billion of the country's foreign exchange reserves and form CIC's capital.
Committed to long-term investments overseas, CIC has made a slew of successful investments and seen its assets increase rapidly. But in 2011, it reported a 4.3 percent loss in overseas investments amid the global downturn. The total assets of the CIC stood at $482 billion at the end of 2011, up 17.7 percent from the previous year. Results for 2012 have yet to be published. CIC typically releases its annual results in July.
Lou warned the recovery in 2013 will be fragile and there will be the risk of a recession.
"The US didn't fall off the big 'fiscal cliff', but there are still smaller cliffs ahead," said Lou, referring to the sharp decline in the budget deficit that could have occurred in 2013 due to increased taxes and reduced spending as required by previously enacted laws.
"Though very slim, there are still chances that the US will fall off one of them."
In terms of US Treasuries, Liu said there are a dilemma. He said US Treasuries are safe and crucial in lowering risks in investment portfolios, but generate very low yields. "My advice is to buy a little," Lou said.
CIC believes China will be the fastest-growing economy in the foreseeable future and will invest more in neighboring countries that benefit from cooperation with China.
Global investors ditched a hard-landing scenario after the Chinese economy regained momentum in the second half of 2012. Economists believe that China's economy grew 7.8 percent in 2012 and that 8 percent growth is in store for 2013.
Contact the writer at gaochangxin@chinadaily.com.cn