Wine lovers to find Shangri-La
Updated: 2012-02-24 09:24
By Li Fangfang (China Daily)
| | | | | | | | | | | |
| --- | --- | --- | --- | --- | --- | --- | --- | --- | --- | --- |
|   | | Comments() | | Print | | Mail | | Large Medium  Small | 分享按钮 | 0 |
China to become the No 1 buyer of luxury products by end of 2012
BEIJING - Moet Hennessy agreed on Thursday to form a venture with VATS Group Ltd, a Chinese counterpart in the wine and liquor business, to produce premium red wine in Southwest China's Yunnan province.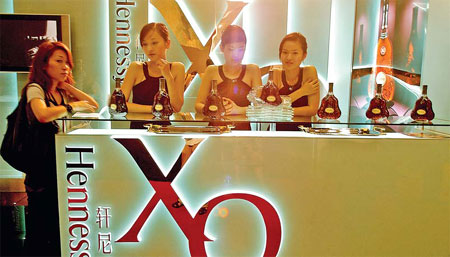 Moet Hennessy products at a luxury brands event in Shanghai. The company will establish a joint venture with China's VATS Group to produce premium red wine in Yunnan province. [Photo/China Daily]
The venture, Moet Hennessy Shangri-La (Deqin) Winery Co Ltd, will establish a roughly 30-hectare vineyard at about 2,400 meters above sea level in Shangri-La, a county in Yunnan province named after a fictional monastery described in James Hilton's 1933 novel Lost Horizon. Moet Hennessy has a 66.7 percent share in the project and VATS Group has the remaining 33.3 percent.
Mark Bedingham, managing director of Moet Hennessy Asia Pacific, said the wines produced in Shangri-La will at first be distributed mainly in China but chances are strong that it will eventually be brought to overseas consumers.
"The label and name have not been decided yet," Bedingham said. "However, the brand name and package are as important as the wine quality in marketing to both Chinese and international consumers."
He said Moet Hennessy has conducted research on the proposed project since 2009. From that, it concluded that Cabernet Sauvignon, Merlot and Cabernet Franc grapes should at first be planted in the vineyard and that Petit Verdot and Malbec grapes should be considered at a later date. The wines made there are to be matured in barrels and bottles for two years before being released to the market, meaning they will not be for sale for three to four years.
"China is going to surpass the United States to be the largest market for Moet Hennessy this year," said Christophe Navarre, chief executive officer of Moet Hennessy. "There have been very strong developments in China's wine market over the last decade or so, which has led Moet Hennessy to place continuous focus on this market and in turn to increase its strategic investment in local production and distribution. And now the wine market continues booming and the growth is dramatic."
Last year, Moet Hennessy obtained 26 percent of its 3.52 billion euros ($4.68 billion) in revenue from Asia. The bulk of that percentage came from China.
The new venture comes five years after Moet Hennessy acquired Wenjun, a producer of Chinese white spirits in Sichuan province. It also comes a year after the company invested in a project to make premium sparkling wine in Ningxia Hui autonomous region.
Navarre said Moet Hennessy has been moving quickly to sell Wenjun in the luxury market. Meanwhile, work will start in May on the vineyards and wineries needed to produce sparkling wine in Ningxia. The first harvest from that project is to take place in September and the first release of wine in 2014.
Ipsos, a global market research firm, predicted in a recent report that China will overtake the United States to become the No 1 consumer of luxury products by the end of 2012. Of all luxury goods, the Chinese most favor vehicles, watches and alcoholic drinks.
Zheng Wenliang, a senior researcher at Ipsos, said red wine replaced traditional Chinese liquor in 2011 to become the most popular alcoholic drink in China, accounting for 39 percent of all sales of such drinks. Of all wines, Chinese consumers tend to prefer premium brands from France.
"Chinese consumers are becoming more knowledgeable about wine and will increasingly differentiate fine wine from everyday consumption wine," Navarre said. "Fine wine, like all luxury goods, demands a price premium and the Chinese consumers understand this.
"We see Chinese consumers are becoming more receptive to different types of fine wines from all over the world, and they are looking for the emergence of Chinese fine wines. And we believe our wine will be eagerly sought after by discerning consumers."
International Wine and Spirit Research, a supplier of market data on alcoholic drinks, said the Asia-Pacific region, led by China, will overtake Western countries between 2011 and 2016 to become the center of the market for wine and spirits.
By 2016, the total amount of wine consumed every year in the world is expected to rise from 3.39 billion cases to 3.68 billion cases. Seventy-five percent of that increase is forecast to come from China, which is expected to consume more than 240 million additional cases between 2010 and 2016.