China Telecom to offer iPhone 4S
Updated: 2012-02-22 09:56
By Shen Jingting (China Daily)
| | | | | | | | | | | |
| --- | --- | --- | --- | --- | --- | --- | --- | --- | --- | --- |
|   | | Comments() | | Print | | Mail | | Large Medium  Small | 分享按钮 | 0 |
The mobile carrier will begin sales of the handset early next month
BEIJING - China Telecom Corp Ltd, China's smallest telecom carrier by subscriber numbers, will sell Apple Inc's iPhone 4S from March 9. That means the company will become the second Chinese operator to offer the Apple handsets on contract.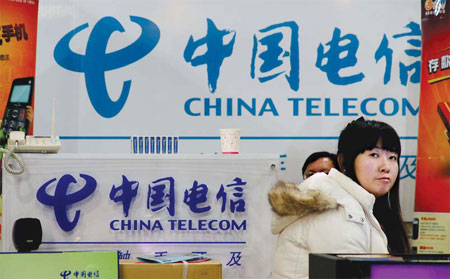 A China Telecom Corp Ltd counter at an exhibition in Tianjin. The country's third-largest wireless carrier is to offer Apple Inc's iPhone 4S at its outlets from March 9.[Photo/China Daily]
Customers will be able to place online applications for the Code Division Multiple Access version of the iPhone 4S from March 2, according to a company statement on Tuesday. The CDMA2000 wireless standard is the third-generation telecommunications technology used by China Telecom.
Buyers can choose a suitable plan with China Telecom's 3G network service in authorized outlets, or through its website, the statement said.
Analysts said the CDMA-version iPhone 4S is not likely to trigger a sales explosion because the device is still aimed at high-end users. However, the introduction of the device to China Telecom's stores will help the company further complete its product portfolio and attract more 3G users.
In January, China Telecom's Chairman, Wang Xiaochu, said that the company expects the demand for smartphones on its 3G network to reach 45 million this year, rising from 16.6 million in 2011.
Users who subscribe to a two-year contract at a monthly fee of 389 yuan ($62) will be able to obtain a 16-gigabyte handset free of charge. The three-year contract will cut the minimum monthly payment to 289 yuan, according to the announcement.
China United Network Communications Ltd, also known as China Unicom, the parent of the nation's second-largest wireless carrier, was previously the sole operator offering the Apple device on contract.
"I don't think there is big competition pressure on China Unicom," said Sandy Shen, a Shanghai-based analyst at researcher Gartner Inc. "The subsidy plans of the two carriers are more or less the same. Meanwhile, China Unicom has adopted Wideband Code Division Multiple Access technology, which is different from the system used by China Telecom," she said.
There is little probability that China Unicom users will transfer their network subscriptions to China Telecom. However, for China Mobile users, the possibility that they will turn to smaller carriers is large, said Sun Kai, a Beijing-based analyst with the researcher GfK Group.
China Mobile Ltd is falling behind in the 3G business, because its network, which uses homegrown technology, lacks support from global manufacturers of handsets and chipsets.
Although the company boasts the world's biggest user base for mobile phones, it will soon be the only Chinese carrier not offering the iPhone handsets with a service contract.
"Some China Mobile subscribers may be easily lured to services offered by other carriers, because many mobile phone models do not support its 3G network," said Sun.
For Apple, China Telecom's move will help the company widen the availability of its products in the Chinese market. The ample supply of the iPhone 4S in China has already reduced the activity of some scalpers and seen many illegal vendors offloading their stock at prices that produce narrow profit margins.
Standing in front of Apple's flagship store in Beijing's Sanlitun, scalper Hui Hong said the hoped to sell out her stock of the iPhone 4S as soon as possible. "I have earned little recently, because people tend to purchase the iPhone 4S online or through the carriers' distribution channels. It is easy to purchase an iPhone 4S, so buyers don't need us now."
Apple was the fifth-largest smartphone vendor in China in the fourth quarter of 2011, with shipments of 2.08 million handsets, or 7.5 percent of the total, according to Gartner Inc.
China Telecom's Hong Kong shares gained slightly more than 4 percent to HK$4.6 (60 US cents) on Tuesday, while China Unicom's shares closed at HK$14.5, a rise of 2.2 percent.