Oil imports to grow slower
Updated: 2012-02-03 09:18
By Zhou Yan (China Daily)
| | | | | | | | | | | |
| --- | --- | --- | --- | --- | --- | --- | --- | --- | --- | --- |
|   | | Comments() | | Print | | Mail | | Large Medium  Small | 分享按钮 | 0 |
Dependency on imported oil has exceeded 50% and is expected to grow further
BEIJING - China's net crude oil import growth is expected to slow for a second consecutive year in 2012 to 5.98 percent, in conjunction with weaker economic expansion, according to China National Petroleum Corp (CNPC), the country's biggest oil producer.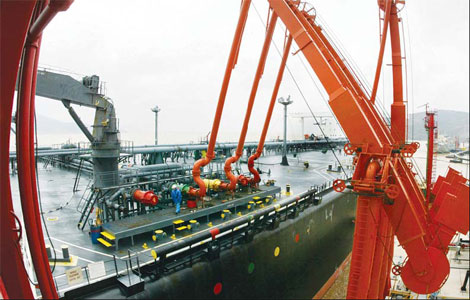 An oil tanker being unloaded at Ningbo port in East China's Zhejiang province. China National Petroleum Corp estimates that the country's crude oil imports may grow at a slower rate this year as economic growth decelerates.[Photo/China Daily]
Net crude oil imports could reach 266 million tons this year, while domestic oil output might stabilize at 220 million tons, CNPC forecast on its website on Thursday.
Net crude oil imports rose 6.3 percent in 2011, below the double-digit level for the first time since such figures were officially released in 2006.
In 2006, the increase was 16.9 percent, according to Chinese customs data.
The economy could achieve a soft landing in 2012 with growth of about 8 percent, with expansion curtailed by reduced demand in Europe and the United States, Standard & Poor's credit analyst Terry Chan said in a research note on Thursday.
The economy grew 9.2 percent last year.
China, the world's second-biggest oil importer after the US, has been a net crude importer since 1993. Its oil-import dependency rate passed 50 percent in 2009 and is estimated to have exceeded 56 percent in 2011.
"We strongly believe that 2012 could be the most difficult year for China's economy within the past five years as a result of the expanding debt crisis in Europe and the fragile economic recovery in the US, which, clearly, will reduce domestic oil consumption," said Wang Jintao, an energy analyst with at chem365.net, an online information provider for the petrochemical industry.
China National Offshore Oil (CNOOC) Ltd, the country's biggest offshore oil producer, has set a moderate output target in 2012 of 330 million barrels of oil equivalent (BOE) to 340 million BOE, compared with an estimated net output of as much as 332 million BOE last year.
CNPC said that China's fuel output might rise 5 percent year-on-year to 280 million tons this year. Domestic fuel demand growth might be reduced in the first half because of a GDP slowdown, but a rebound was expected in the second half as the economic situation would ease, the company said.
It added that a seasonal diesel shortage might recur this year.
Affected by the uncertain situation in Iran, which might continuously push up international oil prices, it was highly likely that China would lift domestic retail fuel prices around April, said Song Zhichen, an analyst at China Investment Consulting.
Fuel prices are strictly controlled by the National Development and Reform Commission, which may adjust prices when the prices of Brent, Dubai and Indonesia's Cinta crudes move about 4 percent over 22 working days.
China Petrochemical Corp, the country's biggest refiner, recently lifted its ex-factory prices of gasoline by 100 yuan ($15) to 8,280 yuan a ton, while diesel prices were raised by 50 yuan to 7,380 yuan a ton, according to a recent research note from JYD Online Co Ltd, a bulk commodity consultant based in Beijing.
Analysts said that higher ex-factory prices would be passed on to end-users sooner or later.
In addition, CNPC said that natural gas imports would surge by 45 percent in 2012 to 45 billion cubic meters (cu m).
It said that accelerating urbanization would lift domestic demand to more than 150 billion cu m in 2012 to account for more than 5 percent of the primary energy mix.