EU bailout funding possible
Updated: 2012-02-03 09:07
By Cheng Guangjin and Zhou Wa (China Daily)
| | | | | | | | | | | |
| --- | --- | --- | --- | --- | --- | --- | --- | --- | --- | --- |
|   | | Comments() | | Print | | Mail | | Large Medium  Small | 分享按钮 | 0 |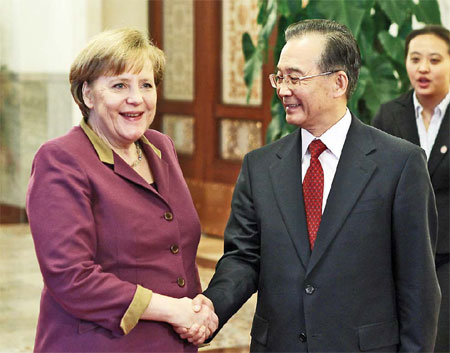 Premier Wen Jiabao greets German Chancellor Angela Merkel in Beijing on Thursday. Both leaders said they were confident of economic recovery in Europe. [Photot / China Daily] 
Wen raises prospect after meeting German chancellor
BEIJING - China may offer rescue funds to Europe, Premier Wen Jiabao said after meeting German Chancellor Angela Merkel on Thursday.
Wen said it was "urgent" to solve the European debt crisis, and China is willing to "involve itself more" in efforts to resolve Europe's debt issues through the International Monetary Fund, the European Financial Stability Facility and the European Stability Mechanism.
The mechanism is a $650 billion permanent bailout fund signed by 25 out of 27 European Union members on Monday.
It will become operational in July to take over from the facility, a temporary fund that has so far been used to bail out Ireland and Portugal.
Wen made the remarks during a joint news conference with Merkel, who started a three-day official visit to China on Thursday.
Wen stressed that efforts made by European countries are the key to resolving the debt issue, and indebted countries should implement proper financial policies that are in line with their real national situations.
"The EU, as a whole, in addition to bailouts, should continuously promote structural and systematic reforms in their financial and other areas, and give the international community a unified and clearer indication on how they will resolve the issue," Wen said.
"China is willing to enhance its communication with Germany via the existing bilateral mechanism of financial cooperation, and is also ready to keep in close touch with all the other parties concerned to address the issue," he said.
Wen also called on the Europeans to create an "objective and positive environment" and provide China with "proper investment products".
Merkel told reporters that she and Wen had reached a consensus that European countries need to further improve financial regulations.
She said that the stabilization of the euro was primarily a matter for Europeans.
"We must do our homework," she said, adding the world expected Europe to present a united front.
Zhao Junjie, an expert on European studies with the Chinese Academy of Social Sciences, said Merkel came to China to seek Beijing's support.
The European Stability Mechanism, a German-inspired pact for stricter budget discipline, has been criticized as concentrating solely on deficit-busting tactics rather than on restarting the stagnant eurozone economy.
German policy has been attacked for focusing on austerity when many EU members are struggling to create jobs.
Merkel will not simply ask China for more money, Zhao said. "She is trying to establish a comprehensive cooperation mechanism with China so that the European debt problem can be solved in a more efficient way."
Wen's choice of words indicated a slight change in China's attitude toward the debt crisis in Europe, Zhao said.
Wen's remarks suggested that China is thinking of practical and specific ways to help the EU tackle its debt problem, in addition to political support, Zhao said.
China and Germany also discussed sanctions on Iran, and Merkel told reporters that the two countries have the same goal, with different approaches: bring Iran back to the negotiation table.
The EU last week imposed a ban on the import, purchase or transport of Iranian oil, while China has long refused to support sanctions against Iran.
Merkel is on her fifth visit to China in six years as chancellor.
She will meet President Hu Jintao and top legislator Wu Bangguo on Friday before flying to the southern province of Guangdong, which is home to more than 400 German companies.
Bilateral trade reached $169 billion in 2011, an 18.9 percent increase from the previous year. Germany accounts for about one-third of China's total trade with the EU.
Merkel said the two countries' economic cooperation should be based on equal market access for two-way investment. The efforts to facilitate the investment include the improvement of intellectual property rights protection, she said.
Describing Merkel's visit as focusing on the future, Wen said he was willing to work with Merkel to advance bilateral ties.
Zhao said Berlin's China policies have become more practical and rational in recent years.
"The frequent bilateral high-ranking exchanges are positive signals. We can expect that stable Sino-German ties will push Sino-European relations to a favorable track, which will contribute to the stability of Eurasia and boost economic growth in the region," Zhao said.
To improve Sino-German ties comprehensively, Gu Junli, an expert from the Chinese Academy of Social Sciences, called for more people-to-people communication, especially among the younger generation.
"The exchange of young scholars, and the political elite is still relatively weak, but they are very important to building stable Sino-German ties", Gu said.