New iPhone sales begin on mainland with website
Updated: 2012-02-03 10:00
By Wang Huazhong and Li Tao (China Daily)
| | | | | | | | | | | |
| --- | --- | --- | --- | --- | --- | --- | --- | --- | --- | --- |
|   | | Comments() | | Print | | Mail | | Large Medium  Small | 分享按钮 | 0 |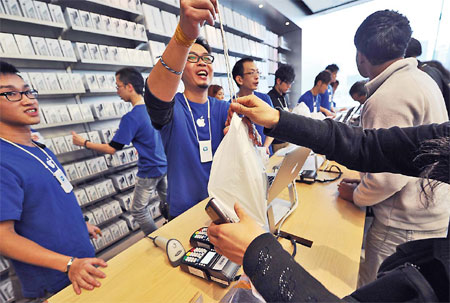 Workers at the Hong Kong Apple Store give customers their Apple iPhone 4S on Nov 11. The iPhone 4S was released on that day in Hong Kong. [Photo / Agencies] 
Apple launches strict policies to keep products away from scalpers
BEIJING/HONG KONG - With organized scalpers working overtime to keep the red-hot iPhone 4S in stock, Apple has adopted new retail policies to regulate orders and delivery of the product in Hong Kong and on the mainland market.
The policies, adopted on Tuesday in Hong Kong and Wednesday in Beijing, follow Apple's nearly three-week block on iPhone 4S sales at mainland stores, and amid media reports that some of the company's suppliers operate sweatshops.
Apple reopened its online ordering service for the iPhone 4S on the Chinese mainland on Wednesday, but customers are given no specific delivery date. Instead, they are told that they will receive their orders of up to two phones in "February".
"If you pay today, you might get the items tomorrow, and no later than March 2," said a staff member on the sales hotline.
Apple suspended all means of direct sales of the iPhone 4S on the mainland immediately at the launch of the product on Jan 13, after scalpers fought one another for position at the front of lines of prospective buyers.
In tandem with the resumption of mainland sales online, the company adopted a lottery reserving system for the phones in Hong Kong.
Market researchers said many of the phones sold in Hong Kong, where taxes on the item are lower, end up on the mainland's gray market.
In Hong Kong, the official retail price of a 16GB iPhone 4S is HK$5,088 ($660) - compared with 4,988 yuan ($790) in Apple stores on the mainland.
Hong Kong iPhone buyers now have to log on to Apple's Hong Kong website between 9 am and noon and give their personal information - including a government-issued ID card number - to reserve a set.
Those selected in the lottery receive an e-mail confirmation of the order before 9 pm the same day and are informed when they can pick up the phone. Those not selected have to try again on a different day.
Apple did not disclose how many iPhone 4S units are released for sale through the lottery each day.
"Due to high demand, we are accepting a limited number of iPhone reservations per day," a notice in the Apple Store in Hong Kong said. "Only those who receive e-mail confirmation will be able to purchase an iPhone. We will not be selling the iPhone 4 or iPhone 4S to walk-in customers."
Apple's spokesperson was not available for comment on the new policies on Thursday.
The prices of the iPhone 4S in Hong Kong, on the Chinese mainland and on the gray market have stayed the same in the past two days.
An owner of a private digital dealer in Sin Tat Plaza - Hong Kong's most popular mobile phone transaction place - said the resale price of the iPhone 4S is not likely to go up soon due to adequate inventory.
Sellers on Beijing's gray market said they get sufficient stock of the phones from Hong Kong.
"It's no problem to find you 40 or 50 phones if you want," said one, who did not want to be identified.
Staff members at Beijing Apple Stores continue to warn customers not to trust products provided by unauthorized sellers.
"Since we began accepting online orders yesterday, not as many people have been hawking iPhones nearby as before," said a worker at the Apple Store in Beijing's Xidan business district.
The policies in Hong Kong and on the mainland are intended to squeeze out scalpers by regulating who gets the phones and when, according to business strategy consultants. But their effectiveness has not yet been tested.
"The policies show Apple's respect for genuine consumer demand," said Zhong Ken, a consultant in Beijing who specializes in the telecom industry.
"But Apple has no experience handling such an unbalanced supply-demand situation. And the results of the policies remain uncertain because scalpers may find ways to circumvent the restrictions," he said.
Ricardo Chan, a consultant in Shanghai, said prospective buyers still face obstacles and uncertainties in getting an iPhone 4S, and Apple should think of ways to keep consumers' demand for the products unabated.
"And the personal information, especially ID numbers, consumers provided to Apple has to be well taken care of."
Cao Yin contributed to this story.