Bringing the big beef East
Updated: 2012-02-02 07:49
By Yang Yijun (China Daily)
| | | | | | | | | | | |
| --- | --- | --- | --- | --- | --- | --- | --- | --- | --- | --- |
|   | | Comments() | | Print | | Mail | | Large Medium  Small | 分享按钮 | 0 |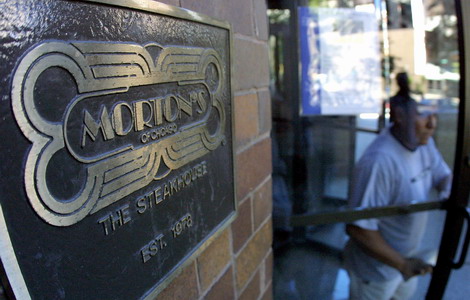 The entrance to Morton's Steakhouse on State Street in Chicago. [Photo / Bloomberg]
Restaurant group looks to Asia for expansion drive as US division saw losses
SHANGHAI - Starting from chopping onions and making salads in the kitchen 16 years ago, Christopher Artinian knows Morton's like the back of his own hand.
Now, Artinian, 41, who is the president and chief executive officer of Morton's Restaurant Group Inc, is leading the company in an attempt to escape the economic downturn and go for further expansion in Asia.
Morton's, the world's largest owner and operator of a company-owned fine dining restaurant, opened its first steakhouse in 1978 in downtown Chicago, where Morton's corporate office is still located. Since then, the company has grown to 77 steakhouses and one Trevi restaurant. Morton's has 71 domestic steakhouses and six in international locations: Toronto, Hong Kong, Shanghai, Macao, Mexico City and Singapore.
The restaurant industry, especially fine dining, largely relies on general economic conditions. Morton's, where the average per-person check is more than $99, is one of the high-end restaurants that have been affected by the global economic recession.
"There is no secret that the US economy has been difficult. It was incredibly difficult in our business in 2008 and 2009. But things started to really pick up again in 2010. Morton's has reported seven quarters of positive comparable sales, which is very exciting," said Artinian.
The company suffered a loss of $77.5 million net of tax from continuing operations in 2009 and $61.8 million in 2008. The restaurant revenues decreased when compared with the previous year by 19.5 percent for 2009 and 4.9 percent for 2008 .
In fiscal year 2010, the company reported net income from continuing operations, net of tax of $4.6 million.
"What was really great for Morton's is that luxury hotel, luxury retail and business entertaining have been on the rise for the last seven or eight quarters and continue to forecast positive," he said.
Artinian has recently completed his tour of Asian cities including Seoul, Tokyo, Taipei, Beijing and Shanghai to look for possible locations for new restaurants. Sitting in Morton's The Steakhouse in Shanghai, which has just celebrated its first anniversary, Artinian said that he is leading the group in an aggressive expansion in Asia.
"Our plan is to open two locations in Asia a year for the foreseeable future. We have nothing to announce definitively, but we are incredibly close on several locations," he said.
"We are already actively looking in two other locations for Shanghai and at least two locations in Beijing. I would not be surprised if we have at least one, if not two, open in 2012," he said, adding that the company is also looking for a second location in Hong Kong.
While the United States is Morton's No 1 for business, because that is where the company originated, Artinian said he believes the company's operations in China can easily come a very close second.
"China is our No 1 area for growth," he said.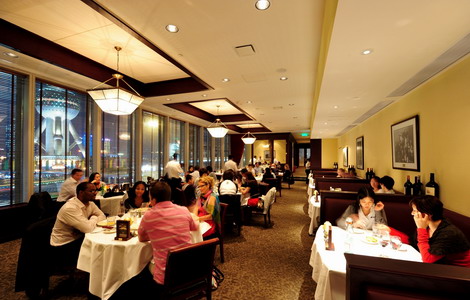 The Morton's restaurant in Shanghai IFC Mall in the Lujiazui area opened in November 2010. [Photo / Provided to China Daily]
The company has moved its regional director of operations from Honolulu to Hong Kong and the vice-president of construction and development is now based in Shanghai.
"We are excited about the growth. We want to make decisions faster," Artinian said.
In November 2010 when the Morton's restaurant opened in Shanghai IFC Mall in the Lujiazui area, a commercial center of the city, Artinian said that it might be the most important one among all Morton's restaurants.
"Hong Kong and Singapore were well-traveled international cities. They have more Western influence than Shanghai does today. We were a little unsure if we would really grow on the Chinese mainland. And we knew that if we could be successful here, it would open up the doors for other cities such as Beijing, Guangzhou, so on and so forth," he said.
He added that so far they are off to a terrific start because the restaurant's performance in the first year was beyond their expectations.
"Our four restaurants in Asia are all in the top core tile of all of Morton's. They are some of our fiscal year's most profitable restaurants," he said.