Macro-policy fine-tuning underway
Updated: 2011-11-07 14:15
(Xinhua)
| | | | | | | | | | | |
| --- | --- | --- | --- | --- | --- | --- | --- | --- | --- | --- |
|   | | Comments() | | Print | | Mail | | Large Medium  Small | 分享按钮 | 0 |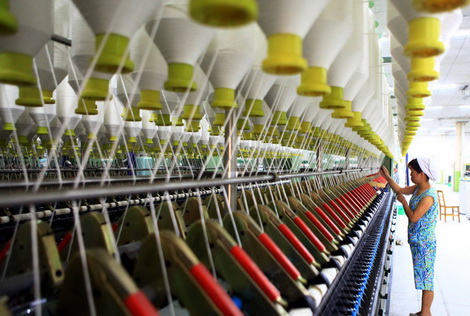 A worker operates a cotton spinning machine at a textile mill in Jiujiang, east China's Jiangxi Province, Oct 21, 2011. China's Purchasing Managers' Index (PMI) dropped to 50.4 percent in October after rising for two consecutive months, down 0.8 percentage points from September, the China Federation of Logistics and Purchasing (CFLP) said Tuesday.[Photo/Xinhua]
BEIJING-- Analysts say that China will selectively ease its tightening policies in the coming months to bolster its economic growth, which has shown signs of slowdown due partly to weak overseas market demand.
Against the backdrop of the sluggish global economic recovery, the importance of maintaining a steady growth has been highlighted.
Chinese President Hu Jintao on Thursday urged the world's major economies to work together to promote growth and financial stability at the G20 summit in Cannes.
Hu said, "At this critical moment, the G20 must work to address the key problems, boost market confidence, defuse risks and meet challenges and promote global economic growth and financial stability," as the global recovery is fraught with instability and uncertainty.
Impacted by the prolonged Eurozone debt crisis and the volatile global financial market, many countries including the US, Japan and India have lowered their growth forecasts.
Although it is out of question for China to maintain an annual growth rate of 8 percent this year, analysts predict that the economic growth in the fourth quarter may edge down to below 9 percent.
"Considering the economic turbulence in developed countries and China's own urgent task of restructuring its growth pattern, an economic slowdown is inevitable," said Li Daokui, an academic adviser to the People's Bank of China.
Slower economic growth
China's economic indicators in the third quarter suggested a downward trend for economic growth as a result of tightening polices which aimed at fighting against stubbornly high inflation.
China's GDP expanded by 9.1 percent year-on-year in the third quarter of this year, the slowest pace since the third quarter of 2009.
The growth rate was down from 9.5 percent in the second quarter and 9.7 percent in the first quarter of this year, according to statistics released by the National Bureau of Statistics (NBS) in October.
NBS statistics also showed that China's consumer price index (CPI), a main gauge of inflation, eased to 6.1 percent year-on-year in September from 6.2 percent in August.
Although the September CPI was still high, inflation is expected to continue to ease in coming months as a slowdown in the global economy weighs down demand, said economists.
Moreover, China's Purchasing Managers' Index (PMI), a gauge of manufacturing expansion, dropped to 50.4 percent in October, just above the 50-level that indicates expansion, the China Federation of Logistics and Purchasing (CFLP) said last week.
The CFLP report said, "There are clear signs of uncertainty in global markets that are impacting China's economy. The European and US debt crisis has continued to worsen and the global recovery is still weak and unsteady."
Zhang Liqun, a researcher with the Development Research Center of the State Council, or China's Cabinet, said the decline of October's PMI indicated a higher possibility of an economic slowdown in the near future.
However, economists rule out the possibility of a hard landing as China, the world's second largest economy, enjoys sound fundamentals.
Policy fine-tuning underway
Given the slower economic growth and cooled inflation, analysts and business owners expected China to ease it tightened policy after Premier Wen Jiabao said China will properly fine-tune its economic policies during an inspection tour in Tianjin late October.
He said that China will make proper fine tuning on its macro policy at a proper time and at a proper degree, keeping it "more targeted, flexible and forward-looking," while continuing measures to control consumer prices.
"Inflation is on track for easing. This provides leeway for Beijing to fine-tune policy to strike a better balance between growth and inflation priorities," said HSBC economist Qu Hongbin.
The ensuing government moves to unfreeze credit and relieve tax burden for small enterprises were deemed as heralds of monetary loosening.
The Ministry of Finance on Tuesday announced threshold lifts for both value-added tax and business tax on cash-strapped small and medium-sized enterprises (SMEs) to reduce corporate operating costs.
Also in last week, the People's Bank of China (PBOC), the country's central bank, released 96 billion yuan into the money market through open-market operations.
It was the PBOC's first net cash injection in four weeks through open-market operations after net liquidity drainage for three consecutive weeks.
However, analysts say that China will only selectively ease its tightening policies, and drastic changes in the monetary policy are unlikely.
"There could be some minor adjustments, but liquidity will remain somewhat tight," Li Daokui said.
"Although high levels of the government gesture for fine tuning on macro policy, the premise of a prudent monetary stance will not be changed," said Sun Jianlin, general manger with China CITIC Bank's credit management department.