Nursery business now online
Updated: 2011-11-07 10:13
By Shi Jing (China Daily)
| | | | | | | | | | | |
| --- | --- | --- | --- | --- | --- | --- | --- | --- | --- | --- |
|   | | Comments() | | Print | | Mail | | Large Medium  Small | 分享按钮 | 0 |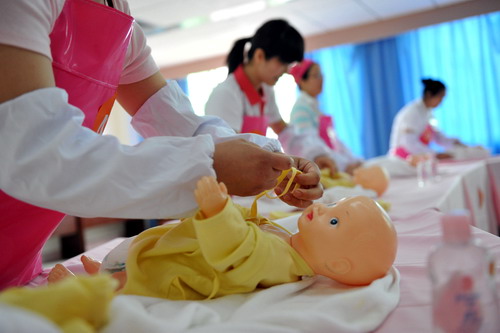 Women at a baby-nursing lecture at a housekeeping training school in Xiamen in East China's Fujian province. [Photo/China Daily]
Maternity maids can be chosen from websites run by specialist nursery agencies
SHANGHAI - Mothers with newborn babies or those who are just about to give birth can now go online to find a maternity matron or nursery maid.
Lejiamama.com, a website providing services to mothers and newly born babies based in East China's Jiangsu province's capital city Nanjing, is actually doing things in line with the literal meaning of its website's name - making mothers happy at home.
Officially launched in June this year, the website has rapidly grown in popularity among customers without making any effort to promote or advertise itself.
"At the very beginning only around 10 people a day would call us to ask about maids or the booking procedures. Now we receive at least 70 calls on a daily basis," said Shi Dong, founder of the website.
The website posts all relevant details about the maids on its books, including photos, expected salary, work experience and customer reviews. Registered customers can either book services online or reach the company through its customer service hotline.
The maids or maternity matrons are selected from several local housekeeping service companies. They are divided into three categories according to their job responsibilities: maternity matrons that only take care of the mother for the first two months after labor, maternity matrons that only look after infants until they are one year old, and maids in a traditional sense, who will perform all housekeeping chores.
The charges range from 2,000 yuan ($313) to 4,500 yuan a month, according to their work experience and customer reviews.
To make sure that the maids provide services in line with the customers' demands, the website operators invited experts from Nanjing Maternity and Child Health Care Hospital as well as local medical schools to lecture the maids on nutrition and hygiene standards.
Apart from professional training, the website also offers a psychological consultancy for the maids in case they come across any unpleasantness at work.
A similar service can also be found on taobao.com, the largest e-commerce platform in China, with prices ranging from 2,000 yuan to almost 60,000 yuan a month.
Chen Yi, a financial manager at a private silk manufacturing company in Wuxi, who is due to give birth in a month, said it was not easy making online reservations.
"You have to book six months in advance and it is not cheap. A medium service level would cost you at least 5,000 yuan a month. I would rather ask my mother for help," said Chen.
Although the website is not currently making a profit and relies on commissions from housekeeping services companies and advertisements, Shi says she is not in a hurry and has big, long-term plans.
"We are aiming to provide an occupation standard in this industry by giving professional training to younger maternity matrons on the one hand and giving a salary incentive to those who receive positive comments on the other hand," said Shi.
It was friends complaining about the difficulty of landing a satisfactory maid that prompted Shi to start a professional website providing the most up-to-date services.
"We will provide restricted family services, which means that the service quality will be guaranteed by a credit system. In this sense, websites such as maternity matron agencies should make sure the information provided is complete and genuine in the first place," said Shi.
Shi's concern over the authenticity of the online information is echoed by Zhang Zhouping, a senior analyst from Hangzhou-based China E-commerce Research Center.
"People will be able to buy almost everything on an e-commerce platform in the future. But as to shopping for maids online, people should be extra careful because it is not shopping for goods but, although it is kind of impolite to say so, shopping for people," said Zhang.
"Choosing maids online is actually a two-way choice. Customers should pay more attention to the authenticity of the information online."
Shi's confidence in his new website came from his insight into the development of Chinese society.
"Although people's income has grown as time passes by, labor costs have also increased significantly. Family life will become a very important topic in the future and more importance will be attached to the quality of family life in the future," said Shi.