Appetite for home delivery meals rises
Updated: 2011-11-07 13:50
By Tang Zhihao (China Daily)
| | | | | | | | | | | |
| --- | --- | --- | --- | --- | --- | --- | --- | --- | --- | --- |
|   | | Comments() | | Print | | Mail | | Large Medium  Small | 分享按钮 | 0 |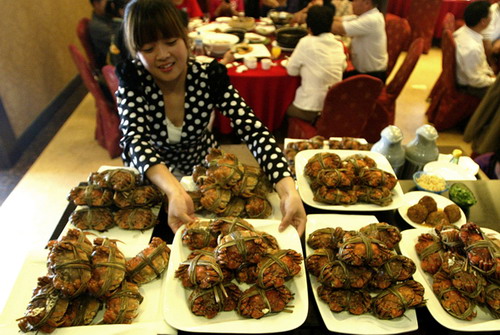 A waitress serving customers with fresh water crabs at a restaurant in Nanjing, capital of East China's Jiangsu province. [Photo/ China Daily]
More people in big cities opt for a more hassle-free dining experience by going online
SHANGHAI - Demand for online Chinese meal ordering and delivery services has increased in recent years in mega cities such as Beijing and Shanghai but experts say companies need to improve service quality to attract more customers.
The growing pace of life and the long lines of people waiting outside famous restaurants have driven many white-collar workers and young people to switch to online ordering services to save time and money.
Currently, most online ordering services are provided by third parties rather than the restaurants themselves.
"Some Chinese restaurant operators may not consider developing an e-commerce division so there are big market opportunities for us," said Jiang Xing, the founder of Canzhuowang, one of the online meal ordering and delivery service providers in Shanghai.
Compared with the price of meals served in traditional bricks and mortar restaurants, the cost of dishes offered online is considerably lower. In some cases, consumers might receive as much as 10 percent off a meal ordered online.
"Stress from the growing pace of life discourages many young people from preparing a meal at home. Home delivery is a convenient way for people to enjoy life without lining up for a long time outside a restaurant," said Mo Daiqing, from China E-Commerce Research Center.
Jiang said the number of orders received online grew significantly in 2011 compared with demand in 2008 because the business model is gradually being accepted by Chinese people.
"When I established Canzhuowang four years ago, we had fewer than 3,000 orders a month and our main customers were from Taiwan and Hong Kong. Now, we need to meet more than 20,000 orders a month," said Jiang.
The entrepreneur said changing consumption and expenditure habits were key factors contributing to business growth. He said customers were getting familiar with home delivery services and had begun to trust the business model.
"Many Chinese were not willing to pay delivery fees at the beginning because they thought home delivery should be free. It was a big challenge for us to educate consumers to pay this extra fee. However, the delivery fees charged by foreign companies such as Pizza Hut and KFC made people realize that home delivery is not a free service," said Jiang.
At present, there are several companies offering home delivery services including 717.com and 129T.com in Shanghai. However, Jiang said business was not easy even though the potential market is big.
"We do not have great bargaining power in negotiating with restaurants, so the profit margin is pretty low," said Jiang. "Online orders are not numerous enough so restaurant operators do not pay a lot of attention to this sector."
According to Jiang, the gross profit margin is around 25 percent because he only focuses on orders from restaurants. He said the gross profit margin is comparatively lower for other companies who offer delivery services for casual meals.
Industry experts say not all food supplied in restaurants is suitable for home delivery, which means less choice for customers.
"Hot and spicy food is suitable for home delivery because the tastes will not change a lot. However, food made with flour such as noodles does not work well as a delivery item," said Jiang.
Although industry experts say the future is promising for online meal home delivery businesses, potential customers are still hesitant about ordering online.
"I know there are several service providers but I am not sure whether they can really be on time. I will get frustrated if orders cannot be delivered on time," said Wang Rui, a Shanghai resident.
Jiang said more than 70 percent of orders are delivered on time, which is good by industry standards.
Some say the restaurant experience is markedly different from eating the same meal at home and are willing to pay for the difference.