On the information super highway
Updated: 2011-10-13 09:32
By Andrew Moody (China Daily)
| | | | | | | | | | | |
| --- | --- | --- | --- | --- | --- | --- | --- | --- | --- | --- |
|   | | Comments() | | Print | | Mail | | Large Medium  Small | 分享按钮 | 0 |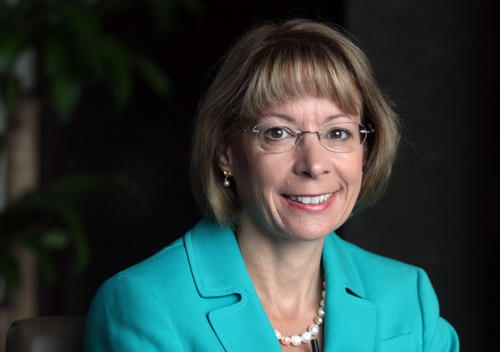 Nancy McKinstry, chief executive officer of Netherlands-based publishing company Wolters Kluwer NV. [Photo/ China Daily]
Related video: China fast forward to digital age
CEO sees China heading further into digital journal publishing while keeping printed word, Andrew Moody discovers.
BEIJING - Nancy McKinstry, head of one of the world's largest publishing organizations, believes China is rapidly advancing into the digital publishing age.
The 52-year-old is chief executive officer (CEO) of Wolters Kluwer NV, the Netherlands-based global publisher of information for professionals such as lawyers, accountants and those in healthcare.
"China is still primarily print-based but it is moving rapidly into the digital world, not just using online products but tablets and smartphones, as a way of accessing information," she said.
McKinstry, who was ranked by Forbes as one of the "100 Most Powerful Women in the World" and by the Financial Times in its top 50 "Women in the World" list, was in the Chinese capital in early September to attend the 18th Beijing International Book Fair, where she launched a number of publishing projects, including a deal with The Commercial Press in China to bring two Chinese legal books to an international audience.
"One of the things that we are working on with The Commercial Press and others is to jointly create content not just for the local market but very much to take that content, translate it into English and other languages and distribute it around the world," she said.
Wolters Kluwer had a turnover last year of 3.56 billion euros ($4.79 billion) and employs some 19,000 people worldwide in more than 40 countries.
Its revenues in China grew by nearly 30 percent last year and the number of employees in the country has grown from just 30 five years ago to 230 today.
Professionals around the world subscribe to Wolters Kluwer's products to keep up to date with the latest information affecting their particular sector.
McKinstry said clients increasingly want this information in digital form either on their PC or on a mobile device.
"Our goal by the end of next year is to have 75 percent of our business online and 25 percent in print," she said.
"When I took over as CEO in 2003, it was exactly the reverse. You can see within this relatively short period of time this trend of moving to more digital information."
But she doesn't think that the book and printed information is about to die out in the near future.
"Do I think print will disappear, say, over the next decade? I would say 'No'. I think there is still a need to have something tangible in your hand so that you can look up information very quickly. A doctor standing by a patient's bedside will still want to pull out a drugs handbook to check what dosage they need to give," she said.
McKinstry, who is also on the board of telecommunications giant Ericsson and the Finnish media company Sanoma, insisted, however, that some of the new digital offerings are very exciting.
"What you can do in the tablet world now is really fascinating. You not only can provide text-based information but also video, graphs, charts and analytics. We have just launched a journal of neurology in tablet form in which one of the features is an expert in neurology coming out and talking about what an article means," she said.
McKinstry, who was born in Connecticut, does not come from a business background. She is the daughter of a single-mother teacher.
"I think that is one of the strengths of the American system. You can start from a very modest background, which I certainly did and, with a good education and hard work, you can develop into a strong professional," she said.