On the information super highway
Updated: 2011-10-13 09:32
By Andrew Moody (China Daily)
| | | | | | | | | | | |
| --- | --- | --- | --- | --- | --- | --- | --- | --- | --- | --- |
|   | | Comments() | | Print | | Mail | | Large Medium  Small | 分享按钮 | 0 |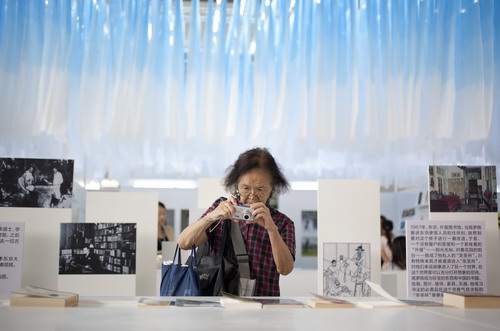 A visitor taking photographs of the book selection in the Netherlands Pavilion of the Beijing International Book Fair. Wolters Kluwer NV took part in the exhibition held in September. [Photo/hina Daily]
After taking a bachelor's degree in economics from the University of Rhode Island and securing a master of business administration from Columbia Business School in New York, McKinstry went to work for Booz Allen Hamilton (now Booz & Co) as a management consultant before moving into publishing.
After running the North American operations of Wolters Kluwer, she became its global CEO eight years ago.
She is the only female head of a major Dutch public company and one of very few in either Europe or North America.
She said the West is far behind China in promoting women, where there are many more high-profile women CEOs, particularly in the private sector. Wolters Kluwer is led in China by a woman - Chang Shasha, the China CEO.
"I think part of it has to do with society in China being very supportive of everyone working, so women have always participated in the economic growth of the country and they have always been an equal partner with men," she said.
McKinstry said the development of the company's business in China has been dramatic. When the company began operating in the country in 1985 there were no lawyers, one of the company's key customer bases, but now there are 170,000 and it is estimated there will be 2 million by 2020.
She said the small number of professionals in China meant it was always behind the company's other markets such as India, which has long had a strong legal sector.
"When you go back to 1985 there were no attorneys in China, while at the same time you always had strong professional sectors in the India market. I would actually say now that China is really far beyond the India market in terms of the infrastructure to support digital content and software products," she said.
McKinstry says she believes China is one of the most dynamic markets the company now operates in.
"One of the things we observe here in China is a very strong entrepreneurial spirit and work ethic, which are two factors which have allowed us to develop an attractive business here," she said.
The American is also impressed by the quality of modern Chinese management and the strength and depth of its workforce.
"I think the educational system in China is very good and what we see in our employees is a quest for knowledge. I would say the Chinese are culturally focused. They continue to develop their skills and to advance and that pays dividends in the business world," she said.
"Every visit I make here, I come away more and more appreciative of how fast the economy is developing here."
McKinstry said recent market turmoil makes it unclear whether the world economy is heading for a double-dip recession but adds that with 75 percent of the company's revenues derived from subscriptions the business is capable of riding short-term fluctuations.
"I think the jury is still out as to whether the recovery in the US we had been seeing throughout this year, until the last three or four weeks, will continue or whether the economic cycle will slow down a bit," she said.
"Our revenues are subscription driven so they tend to be quite resilient through the economic cycle but, of course, all businesses are affected by economic conditions."
McKinstry said she is impressed by the publishing industry in China and the increasing prominence of the Beijing International Book Fair.
"I have been astonished by how quickly the Beijing fair has been developing. I think it is now very much neck-and-neck with Frankfurt and certainly an important event for us," she said.
She believes China will quickly adapt to the digital publishing world and that in her company's business the technology will be a major timesaver for busy professionals deluged with information.
"If you are a doctor, the body of medical literature doubles every 10 years. There are not enough hours in the day to read all the stuff. Any software tools you can develop that help them deal with this information will prove vital."