Local debt NPL problems to loom by '13: Poll
Updated: 2011-09-20 10:48
By Lan Lan (China Daily)
| | | | | | | | | | | |
| --- | --- | --- | --- | --- | --- | --- | --- | --- | --- | --- |
|   | | Comments() | | Print | | Mail | | Large Medium  Small | 分享按钮 | 0 |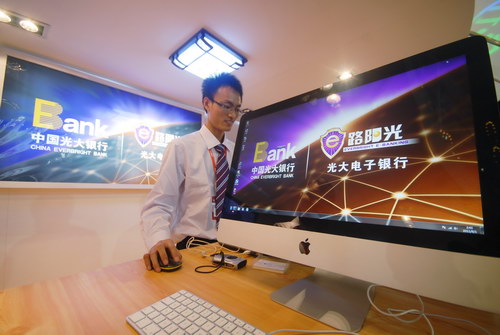 A booth at the China International Financial Exhibition 2011 in Beijing. The ratio of non-performing loans of local financing vehicles is likely to reach as high as 15 percent. [Photo/China Daily]
BEIJING - China's local financing vehicles could face the rising risk of bad loans and major problems might emerge as early as 2013, a report by a major Chinese asset management company released on Sept 19 said.
The non-performing loan (NPL) ratio of local financing vehicles - investment companies through which local governments raise funds to circumvent regulations that prevent them from borrowing directly - is likely to reach as high as 15 percent, exceeding 1 trillion yuan ($156 billion), according to China Orient Asset Management Co.
The report surveyed 234 institutional respondents, including commercial banks, asset management companies, investors and intermediary agencies.
About 84 percent of those surveyed at commercial banks said the local financing vehicles would encounter a major NPL problem.
About 57 percent reckoned that this would occur in 2013 while roughly 25 percent said this might happen in 2012, according to the report.
Intermediary agencies were more pessimistic: About 98 percent of the respondents said a concentration of bad loans would occur, and half of them said it would happen in 2012.
No respondents said the local government debt problem would reach a dangerous level this year.
The average forecast NPL rate is about 15 percent, with the scale of the bad loans expected to exceed 1 trillion yuan, the report said, citing survey results.
China's local government debts were 10.7 trillion yuan at the end of 2010, equal to about 27 percent of gross domestic product, according to a report by the National Audit Office in late June.
Senior government officials said last month that government debts are "controllable" and there is little chance for a potential government default, as regulators at all levels are taking active measures to tackle the issue.
Under pressure
Guo Tianyong, a professor with the Central University of Finance and Economics, said banks are under pressure to resolve the high level of bad loans.
"The risks of local financing vehicles are uncertain and it's hard to say whether the ratio will reach 15 percent, but stringent control of the incremental debt of the local governments is crucial," Guo said.
He said the high rate of bad loans had become a hurdle to the competitiveness of the banking system, and the credit risks of commercial banks should be seriously addressed.
The survey indicated that commercial banks' bad loans would dramatically increase after 2012, reflecting China's stimulus spending as it sought to fight the effects of the global financial crisis.
About 73 percent of the respondents at commercial banks said that bad loans generated by the enormous increase in new loans in the past two years will emerge in concentration in 2012 or thereafter. Major sources of NPLs will be local financing vehicles, even though the loans were related to high-speed railways, steel and new energy industries, it said.
"China launched a 4 trillion yuan stimulus plan in 2008 to cope with the financial crisis, and the high speed of economic growth was sustained in 2009 and 2010 by enormous credit and investment", but this was eventually reflected in rising inflation in 2011, said the report.