China passes US as world's biggest PC market
Updated: 2011-08-24 13:18
By OWEN FLETCHER and SUE FENG (Wall Street Journal)
| | | | | | | | | | | |
| --- | --- | --- | --- | --- | --- | --- | --- | --- | --- | --- |
|   | | Comments() | | Print | | Mail | | Large Medium  Small | 分享按钮 | 0 |
BEIJING - China for the first time has passed the US to become the world's biggest personal-computer market, highlighting the growing importance of a country where big US PC makers have struggled to compete against China's Lenovo Group Ltd.
The shift underlines rapid industry changes in the PC industry world-wide. Consumer demand for PCs has soared in emerging markets, while it has faltered in developed markets. Meanwhile, the rise of smartphones and tablet computers, most notably Apple Inc's iPhone and iPad, has raised concerns that purchases of such products could eat into demand for traditional desktop and laptop PCs. Reflecting those challenges, Hewlett-Packard Co, which is the world's biggest PC maker but has lost popularity with Chinese consumers, last week said it is considering a sale or spinoff of its personal-computer business.
China has topped the US as the largest PC market worldwide, underlining a rapid industry change in which consumer demand for PCs has soared in emerging markets, while it has faltered in developed markets.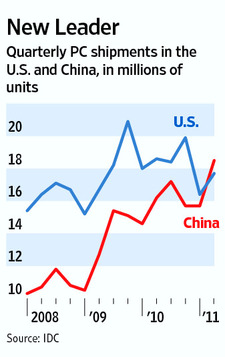 "The center of gravity of the PC industry has shifted away from the developed world," said David Wolf, chief executive of Wolf Group Asia, a Beijing-based marketing-strategy firm.
PC shipments to China came to 18.5 million units in the second quarter, exceeding the 17.7 million shipped to the US, analyst Avinash K. Sundaram of IDC said Tuesday. The market-research firm still expects the US to receive slightly more PC shipments than China for the year as a whole as sales in the US usually surge during the year-end holiday season. But IDC expects China's PC shipments to reach 85.1 million units for all of next year, compared with 76.6 million for the US.
The growth in China has been fueled by rising demand from consumers and companies and by increased government spending.
China's massive market and fast-growing economy have started reshaping an array of industries.
The country is the world's biggest iron-ore importer and steel market, and rising demand from China has fueled price increases for corn and crude oil. China in 2009 surpassed the US to become the world's largest auto market. General Motors Co has started developing cars in China for sale world-wide. Car makers Daimler AG and Nissan Motor Co are gearing up to do so as well. Coca-Cola Co Chairman and Chief Executive Muhtar Kent last week said the soft-drink company plans $4 billion in new spending in China over the next three years.
Tech companies also are boosting their presence in China.
Dell Inc has used China, the world's biggest cellphone market by volume, as a testing ground as the PC maker has branched out into mobile devices. Dell last month began sales only in China of a 10-inch tablet device running Google Inc's Android operating system. Intel Corp in May said Sean Maloney, a senior executive seen as a candidate to be the chip giant's next chief executive, would move from Silicon Valley to China to oversee Intel's operations there.
Growth in China's computer market is likely to lead foreign PC makers to continue increasing their investments in the country. It could also lead them to seek tie-ups with Chinese companies in the mainland, as Taiwan's Acer Inc did last year when it paid Chinese PC vendor Founder Technology Group Corp up to $70 million to use the Founder brand in China for seven years. The move helped boost Acer's PC market share in China to 9.6 percent in the second quarter, up nearly six percentage points from a year earlier, according to IDC. Acer wasn't available for comment.
The PC industry's focus on Asia is likely to lead companies to boost research and development in the region and to design a wider array of low-cost products, said Mr Wolf, of Wolf Group Asia. "It's not just going to be Apple's kind of pretty devices for prosperous people. It's going to be computing for the bottom of the pyramid," he said.
The clearest beneficiary of growth in China's PC market has been Lenovo, which has become one of the world's fastest-growing computer makers. Lenovo, which bought International Business Machines Corp's PC business in 2005, accounted for 12.2 percent of global PC shipments in the second quarter, making it No 3, behind HP and Dell, IDC said.
"We remain optimistic that China will continue to grow faster than the world-wide PC market," a Lenovo spokesman said.
HP and Dell have invested heavily to expand in China but still trail far behind Lenovo in the country. Dell said China is the company's second-biggest source of revenue, behind the US, and is a key growth country for the computer maker. HP wasn't available to comment for this article.
Dell accounted for 10.4 percent of China's PC shipments in the second quarter, ranking it second behind Lenovo's 31.7 percent share, IDC said. Dell last year announced plans to open a second major operations center for China and estimated that over the next ten years it would spend more than $100 billion in China in such areas as R&D and purchases from suppliers.
HP, in particular, has faced challenges in China, with its market share dropping to 8.5 percent in the second quarter from a recent peak of 16.6 percent in the third quarter of 2009, according to IDC. Part of the decline stemmed from a technical glitch in some of its computers caused by a faulty graphics chip from a supplier. "Consumers in China are still wary of buying an HP PC," said IDC's Mr Sundaram. "This has had a material impact on HP."
Lenovo and other PC makers are working to expand their sales networks in China's countryside but also are benefiting from high demand in urban areas.
Mao Lan, who works for a securities company in Beijing, said she bought a Lenovo laptop in May. "Some of my friends recommended I buy an Apple Mac, but it costs money to buy much of its software," the 32-year-old said. "Plus nowadays, there are very quick updates for computers, so there's no need to buy a very expensive one." She said she ruled out buying an HP computer because of last year's reports about its faulty products.