Overseas energy deals 'require caution'
Updated: 2011-08-24 10:27
By Du Juan (China Daily)
| | | | | | | | | | | |
| --- | --- | --- | --- | --- | --- | --- | --- | --- | --- | --- |
|   | | Comments() | | Print | | Mail | | Large Medium  Small | 分享按钮 | 0 |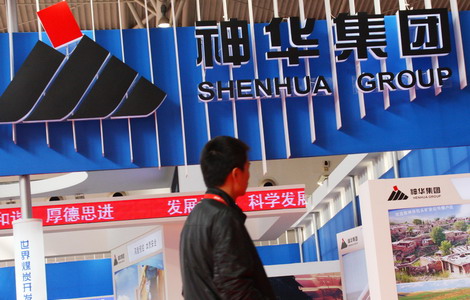 Shenhua Group Corp Ltd's booth at a coal industry exhibition. Mongolia said it will rethink its plan to give the Chinese group a 40 percent stake in the Tavan Tolgoi coalfield. [Photo / China Daily] 

'Rethink' in Mongolia provides an example of potential pitfalls
BEIJING - Experts warned that Chinese energy companies must conduct better risk assessments and strengthen communication with local governments when they explore overseas markets, after Mongolian President Tsakhia Elbegdorj said the country was rethinking development plans for the Tavan Tolgoi coal mine.
Elbegdorj said on Aug 20 that because of the pressure of domestic public opinion, he could not support an earlier plan that gave Chinese company Shenhua Group Corp Ltd the largest share of the coal development project, according to Kyodo News service.
In early July, the Mongolian government announced that Shenhua, China's largest mining company by output, would have a 40 percent stake in developing the Tavan Tolgoi coalfield.
US-based Peabody Energy Corp was awarded 24 percent.
Shenhua declined to comment on that announcement at the time, and it also refused to comment on Tuesday on Elbegdorj's statement.
An insider at Peabody who asked to remain anonymous said that the Mongolian government faced a tough question of dividing the shares in the world's largest untapped coal mine. The insider said that none of the bidders, including Shenhua and Peabody, were satisfied with the initial results because they all wanted larger stakes.
"Mongolia has to balance the benefits of each party, which is hard. Considering the political issues, they have to ensure the neighboring countries' profits, which has put them under huge pressure," the insider said.
The person also said that Peabody might get a larger stake as the project's shareholding structure was "re-planned".
However, one Chinese expert believes that Shenhua will still be the strongest competitor for the mine's development.
"The Mongolian government may reduce Shenhua's share, which almost is a definite result, but how much the percentage is to be reduced depends on future negotiations," said Sun Hongbo, a researcher at the Chinese Academy of Social Sciences.
However, he said the result won't affect Shenhua's international strategy, which was based on increasing domestic demand for coal.
A securities analyst who covers the coal industry said on condition of anonymity that there wouldn't be any direct influence on Shenhua's market performance because it usually takes five years to develop an overseas coal project.
He said Shenhua's recent share performance in Shanghai and Hong Kong might be a reaction to its interim results, rather than the Mongolian coal deal.
Sun said Mongolia wanted to maximize profits from the coal project, so it had to lessen the dependence on any individual country.
Thus, it is possible that Mongolia may give larger shares to South Korea and Japan.
He said Chinese energy companies needed to evaluate the risks of foreign resources projects before making any investment and prepare for possible losses.
Further, companies must liaise more closely with the communities where they do business, such as by cooperating closely with the local government, providing local employment and responding appropriately to local public opinion, said Sun.
"Otherwise, it is hard for a foreign company to develop well in another country," he added.
The Tavan Tolgoi coal deposit, in Mongolia's south Gobi region, has estimated reserves of 6 billion tons. The western side of the field, which is close to Mongolia's border with China, has about 1.2 billion tons of reserves, of which 68 percent is high-quality coking coal.
The field has an estimated production life of more than 30 years with output of 15 million tons annually.