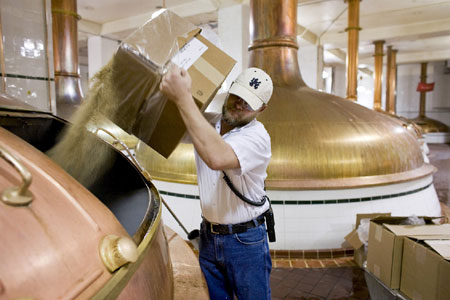 A worker pours granulated orange peel into a brew kettle for Blue Moon beer at the Molson Coors brewery in Colorado. Molson Coors Brewing Co is the biggest beer company based in North America. [Matthew Staver / Bloomberg news]
New venture to expand brewer's distribution grid nationwide
CHENGDE, Hebei Province - Molson Coors, the world's fifth-largest brewer, signed an agreement on Wednesday to pay $40 million for a 51 percent stake in a new joint venture with China's Hebei Si'hai Beer Company, as it moves to expand further into the Chinese market.
Headquartered in Chengde city, Hebei province, Hebei Si'hai is a regional brand mainly focusing on the province, with an annual output of 200,000 kiloliters.
The joint venture, to be named Molson Coors Si'hai Brewing Company, will control Si'hai brewing operations and make Chengde its Chinese production base.
Plans are also in the works to expand distribution channels around the country.
Kandy Anand, president of Molson Coors International, said, "both our high-end brand, Coors Light, and Si'hai beer will increase over 50 percent year on year sales volume due to the package innovation and improved beer quality after the establishment of the joint venture."
Molson Coors has been promoting its premium brand, Coors Light, domestically since market entry in 2003.
Initially sold in bars and nightclubs in larger cities, Coors Lights is now distributed to more than 40 cities across China and enjoyed, on average, a 35 percent increase in sales volume last year.
Huang Wei, a food and beverage analyst with China Jianyin Investment Securities Co Ltd, said "the deal will not increase Molson Coors' market share in the Chinese market due to a lack of brand popularity among ordinary consumers who rarely buy beer at night clubs".
However, Peter H.Coors, chairman of Molson Coors, disagreed, saying the company was aiming to establish a production portfolio here to meet Chinese consumer demand for beer at different (price) levels, so owning a local production base enables the company to package products for the Chinese market.
The new plant is the first joint venture Molson Coors established in China.
Molson's business is mainly concentrated on mature markets in Canada, the United States and the United Kingdom.
"The investment provides Molson Coors a foothold in the Chinese market, but Molson will still need a long time to get to the same level as its global rivals such as Anheuser-Busch and South African Breweries Plc (SAB), which have a head start here," Huang added.
Anheuser-Busch InBev, the world's largest beer company, has established more than 30 plants in China since it entered the market in 1998.
Related readings:


 Qingdao International Beer Festival

 China Yunxian County Lancangjiang Beer Carnival of Lincang

 Taiwan Beer poised to take 1% of the mainland market


 Highland barley beer from China's Tibet enters US market
SAB, the world's second largest brewer, entered China in 1994 and has become the biggest stakeholder in Harbin Beer, China's fourth biggest beer maker, since 2004.
SAB is also the second biggest stakeholder of Snow Beer, the biggest Chinese brewer, with a 49 percent stake.
Last month, Carlsberg A/S, the world's fourth largest brewer, Anheuser-Busch InBev and a Chinese venture with SABMiller Plc submitted bids to buy a 12.25 percent stake in Chongqing Brewery Co, the beer maker controlled by the government of China's largest municipality.
"Although they will pay a lot for a Chongqing Brewery Company's stake, they will not give up any opportunity to penetrate the Chinese market," said Huang of China Jianyin.