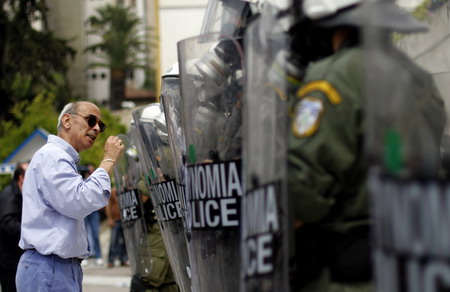 A protestor speaks to a line of Greek police during a demonstration in Athens. [Bloomberg] 
ATHENS, Greece - Greece's only hope of avoiding bankruptcy is to take money from a joint EU and International Monetary Fund (IMF) rescue package, the finance minister said on Thursday during a heated Parliamentary debate overshadowed by the deaths of three people during protests against spending cuts.
Greece has to impose harsh austerity measures, including slashing salaries and pensions and increasing taxes, in order to get money from the 110 billion euro ($142 billion) three-year package, which will provide the country with loans from other eurozone countries and the IMF.
The loans are aimed at containing the debt crisis and keeping Greece's troubles from spreading to other countries with vulnerable state finances such as Portugal and Spain.
The euro has sagged as those countries have seen debt downgrades, falling below $1.28 on Thursday.
The cuts have sparked outrage in Greece, with an estimated 100,000 people spilling onto the streets of Athens during a nationwide general strike on Wednesday to protest the measures.
Demonstrations quickly turned violent, with protesters trying to storm parliament and clashing with police in extensive riots that saw banks, stores and hotel windows smashed and two buildings burned. Three people died when they became trapped in a burning bank torched by protesters. Firefighters used a crane to rescue another four people from the building's balconies.
Related readings:


 Greek bank workers strike over deaths


 Finnish PM worried about Greek bailout


 Greek contagion fear stalks global markets


 Wall St tumbles on fear Greek crisis could spread

Finance Minister George Papaconstantinou said the government had no choice but to impose the austerity measures, which were being rushed through Parliament to a vote later on Thursday.
Papaconstantinou said the draft bill was introduced as urgent legislation because the country was two weeks away from default, with 8.5 billion euros worth of bonds maturing on May 19.
"The state's coffers don't have that money," Papaconstantinou said. "Because today ... the country can't borrow it from the international market. And because the only way for the country to avoid bankruptcy and suspension of payments is to take the money from our European partners and the International Monetary Fund."
But in order to receive the money, Greece must agree to a three-year austerity program, Papaconstantinou added.
"The government has the responsibility of implementing the most difficult financial measures ever taken in this country. It is a program which requires effort and sacrifice, and obliges us morally and politically to succeed," Papaconstantinou said, describing the rescue package as "our country's last hand".
"We are asking for loans from countries that also have deficits and from countries that are also the subject of speculative attacks. And for those to be granted, we must persuade them that we are putting our house in order," he minister said.
Associated Press