Pioneer Chinese govt auditor recalls challenges of UN auditing missions
Beijing - Zhang Ke clearly remembers the grim days he spent in Darfur two years ago: Barbed wire around his dormitory to deter any attackers and animal carcasses on dusty roads leading up to the compound.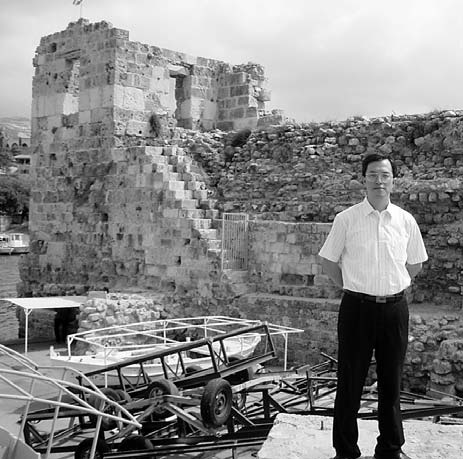 Zhang Ke, deputy director-general of the overseas audit department of the National Audit Office, in Lebanon during a mission in September 2008.
Gunfire all day and night accompanied the constant drone of the air conditioner in his room and made it impossible for him to rest.
"If I turned the air-conditioner off, the indoor temperature would quickly rise to 40 C. I suffered stomachaches every day there since I had to drink water from a well covered with dead bugs," said Zhang, deputy director-general of the overseas audit department of the National Audit Office (NAO).
Zhang, 42, is also one of China's first government auditor with the Association of Chartered Certified Accountants, an internationally recognized auditing qualification.
When China became a member of the United Nations Board of Auditors in 2008, Zhang's team got its first chance to go abroad and learn how the UN programs work, as well as help the organization improve the effectiveness and efficiency of its budget, which reaches billions of dollars each year.
China regained its UN membership in 1971. China's annual UN due since 2007 was $270 million, an increase of 42 percent over the amount in 2006. From this year, China's annual due to the UN rose to $380 million.
But for decades, the world's most populous country was not recognized as a member reliable enough to provide professional and independent auditing services to supervise UN activities.
"You can imagine how excited we were when China was first admitted by the UN Board of Auditors, it was such a valuable opportunity for us to show the world the real image of Chinese officials," Zhang said.
China has been entrusted with auditing of the UN peacekeeping mission from 2008 to 2010. Zhang and his colleagues have to follow peacekeeping troops in the most dangerous regions hit by war, including East Timor, Chad and Lebanon.
During the days, auditors will follow troops into war zones, checking out the management of military supplies, food and personnel. Usually, there will be a truck of soldiers moving ahead of them and another one following behind, to ensure their safety.
"You never knew whether there would be landmines or attacks on the way," Zhang said.
At night, the auditors often worked overtime to sort out material and analyze statistics. The auditing work in the war zone would last about three weeks.
Besides danger areas, China is also responsible for the auditing of two World Courts - the International Criminal Tribunal for Rwanda (ICTR) and the International Criminal Tribunal for the Former Yugoslavia (ICTY).
"The World Court was set up to pursue justice and fairness for people, and our job is to improve its performance," Zhang said.
Since their establishment, the ICTR and ICTY has cost $2 billion and sentenced about 100 prisoners each, Zhang said.
"We need to find out if there is any way to make the operation more efficient. It is very important to bring justice and fairness to people, but it is better if we can save some money and finance more impoverished people to help them survive," he said.
Efforts by Chinese auditors such as Zhang have won recognition on the international stage for themselves and the nation.
The report on UN peacekeeping missions delivered by UN auditors in March 2009 pointed out problems including the low efficiency of assets management as well as the lack of standardized administration of purchase and contract, and submitted specific suggestions for improvement.
The UN advisory committee on administrative and budgetary questions said the report was "high in quality, comprehensive, and provide convenience for the UN General Assembly to hear and examine the implementation of the peacekeeping missions".
China is also set to chair the UN Board of Auditors in 2011 and 2012, and will take on new missions including the auditing of the human rights protection program.
More than 200 Chinese auditors are now included in the task and all of them have a good command of English and auditing skills, as well as other outstanding qualities.
Zhang said the auditors are like doctors. They see the "diseases" in governance and find ways to cure them.
"This work gives us a window to show the world what Chinese auditors are like and provides us with valuable experiences to learn and bring back good governance to China," he said.