Staying abreast of the latest technology is vital in business
BEIJING: In these days of crisis you don't often hear CEOs talk about growth, even less a growth rate that you thought only prime ministers of China and India could afford to aspire to (say higher than 10 percent).
But this was what Dave Senay, president and CEO of Fleishman-Hillard Inc, the global marketing communication and PR company, claimed in his latest trip to China about the company's business performance in the first quarter of 2010 - thanks primarily to robust growth coming out of Asia and other emerging economies.
The exact figure may be a happy surprise (only second to the best result in history, according to Senay), but the company seems to have been anticipating some such early gaining on both the human resource and strategic levels, Senay explained in an interview with China Business Weekly.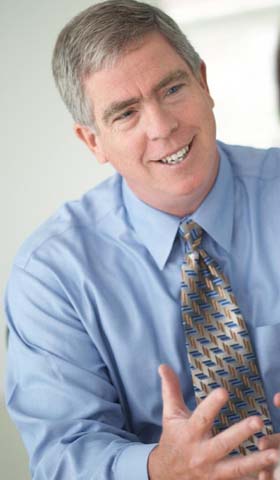 Dave Senay, president and CEO of Fleishman-Hillard Inc, the global marketing communication and PR company, said that soon, probably this month, Fleishman-Hillard will join some partner companies to release a joint survey of online consumer behavior. [China Daily] 
Fleishman-Hillard is part of the NYSE-listed Omnicom Group Inc, one of the largest global advertising, marketing and corporate communications companies.
On the human resource level, Senay said his company had the luxury of avoiding downsizing in a down time. Vacancies were created, but not for familiar faces in the PR industry who travel from one company to another like walking through revolving doors.
Instead, it recruited people with a wide variety of backgrounds, able to add value from different cultures to the company's worldwide relationship portfolio. A quarter of the new senior staff, as Fleishman-Hillard's China director pointed out, were from Asia.
There must, internally, have been some painful reshuffle, to replace older staff with young talent. But why must the company do that - to at least maintain a staff size as large as the pre-crisis days while beefing up its pool of expertise in a year when business, in Senay's word, "hesitated"? How could it be sure it was doing the right thing? How could it anticipate an earlier comeback in formerly unlikely parts of the world economy?
"We have to be where business is happening," Senay answered, pointing to the fact that two-thirds of Fleishman-Hillard's clients are also asking the firm to serve in more than one city in the world.
No growth, of course, can be one-sided, especially in the communication services and relationship management. New talents are bringing in new clients - nowadays not just from mature economies but many formerly unheard-of companies and brands in developing nations from East Asia to the subcontinent, and Latin American to the Middle East.
Senay cited brands such as Lenovo, TCL and Huawei as belonging only to the tip of an iceberg. Hundreds of them have emerged in the developing world in just one decade, with probably thousands more to follow in the next decade, he said, pointing out the world's changing business horizon.
Characteristic of the change, as seen on the Fleishman-Hillard homepage, are three words - digital, integrated, and global. They are the three cornerstones, so to speak, of Senay's philosophy.
In the digital age, the environment of marketing has changed. A message no longer has an impact when it is first uttered, but when it is taken and shared, and perhaps modified by feedback and made fuller by its follow-up and even related communication. Advertising agencies used to have the whole communication process under control, from the design all the way to the delivery. But now, marketers are operating in one "uncontrolled space" in which it is not what you say, but whether people are listening and responding, that matters, Senay said.
Interestingly enough, Senay added, in some important aspects, the digital age may not take off in developed countries as fast and as quickly as in some of the developing countries.
He mentioned that soon, probably in May, Fleishman-Hillard will join some partner companies to release a joint survey of online consumer behavior. From learning self-expression (such as blogging) to e-commerce (such as buying things from the Internet), the Chinese index and that of other Asian societies is way ahead of that of the United States and some key European countries.
Therefore there is the need for an integrated approach, for adopting the new media and for learning to do business in the uncontrolled space. And therefore the need for the global reach, meaning a service network that covers all key parts of the world.