CNOOC to increase new energy production
By Zhong Nan (China Daily)
2010-11-27 09:20
| | |
| --- | --- |
| | |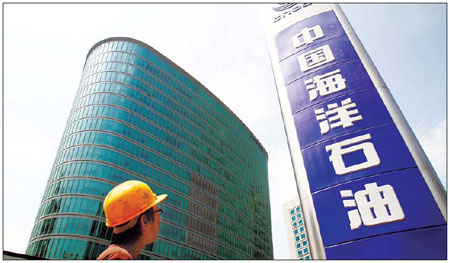 A worker looks at CNOOC's headquarters building in Beijing. CNOOC intends to increase its proportion of new energy production during the 12th Five-Year Plan (2011-2015). [Photo/China Daily] 
Alternative fuels will be used to achieve emissions reductions targets
BEIJING - CNOOC, China's largest offshore oil producer, said new energy will account for 40 to 50 percent of the company's total energy produced during the 12th Five-Year Plan period (2011-2015).
"At present, new energy accounts for less than 10 percent," Fu Chengyu, chairman of CNOOC, said. "But we will try to increase that to 40 to 50 percent."
He also said clean energy such as wind power will account for 20 to 30 percent of the company's total energy production during the 12th Five-Year Plan period (2011-2015).
The oil producer's target is part of the country's effort to boost new energy and cut greenhouse gas emissions in the coming five years, analysts said.
"In comparison with coal and oil, the government is willing to increase the use of natural gas because it is easy to transport and produces less pollution," said Jing Yongping, a professor at the Beijing Institute of PetroChemical Technology.
Meanwhile, Fu said the company has imported more than 10 billion cubic meters (cu m) of natural gas this year to solve the gas shortage and help rein in emissions. Natural gas is regarded as a cleaner energy than oil and coal.
China's natural gas consumption saw an average annual growth of 16 percent from 2000 to 2009. Use of the fuel now accounts for 3.8 percent of total energy consumption.
The country consumed 87.45 billion cu m of natural gas last year, surging by 11.5 percent year-on-year. The domestic shortage of natural gas reached more than 40 billion cu m in comparison with output.
In 2009, the nation's energy consumption per unit of gross domestic product fell by 15.6 percent compared to 2005.
Fu said constructing more liquefied natural gas (LNG) terminals is a convenient way for China to gain more resources from foreign suppliers to fulfill the country's energy demand.
"CNOOC has constructed four LNG terminals in the coastal cities and we have six LNG terminals which are being tested now, including Jieyang and Shenzhen," Fu said.
China imported 5.8 million tons of LNG in 2009, an increase of 67 percent from a year earlier, and now plans to import 25 million tons annually, according to the National Development and Reform Commission.
"We are under heavy pressure on emissions reduction and we have to increase the proportion of new energy in our production," said Fu.
A US electronics company invented a charger that draws its power from Wifi signals, according to TGDaily.com.
The "Green Seeds" chewing gum bottle designed by Jiang Gonglue makes it easier for you to deal with gum residue.
A French graduate designed a kettle using an incandescent bulb to heat water, according to dezeen.com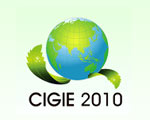 The China International Green Industry Expo 2010 (CIGIE 2010) is an important international green industry exhibition hosted by the Chinese government and held at the Beijing Exhibition Center, Nov 24 to 27.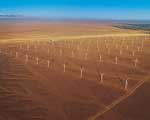 China Wind Power 2010 is the largest and most important international wind power conference and exhibition in China.
TradeWinds Shipping China 2010 moves to examine every important facet of the shipping industry's fortunes.