China vows to 'effectively control' emissions in next 5 yrs
(Xinhua)
2010-11-23 11
BEIJING - China on Tuesday published its annual report on climate change, vowing to "effectively control" greenhouse gas emissions over the next five years.
China's pledge came in the "Annual Report on Actions to Address Climate Change", which was published by the National Development and Reform Commission (NDRC), China's top economic planner.
Member countries of the United Nations should work together to proceed with climate talks according to the mandate of the Bali Roadmap, said the report.
"China opposes any draft that has not been fully discussed or recognized by member countries as the basis for negotiation at the upcoming Cancun Conference in Mexico," said the report.
A US electronics company invented a charger that draws its power from Wifi signals, according to TGDaily.com.
The "Green Seeds" chewing gum bottle designed by Jiang Gonglue makes it easier for you to deal with gum residue.
A French graduate designed a kettle using an incandescent bulb to heat water, according to dezeen.com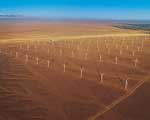 China Wind Power 2010 is the largest and most important international wind power conference and exhibition in China.
TradeWinds Shipping China 2010 moves to examine every important facet of the shipping industry's fortunes.
Outdoor Lifestyle Hangzhou Fair will attract reputed suppliers, buyers and agents from around the globe.