China's renewable energy has great potential: Report
(Xinhua)
2010-11-23 10
| | |
| --- | --- |
| | |
BEIJING - A climate change report published Monday in China highlighted the fact that the country's great potential lies in renewable energy.
The report, entitled "Annual Report on Actions to Address Climate Change," which was published by the Social Sciences Academic Press, said: "With the support of renewable energy policies, China has been making rapid progress in developing and utilizing renewable energy."
Figures from the report show that the country's wind energy capacity has increased 100 percent annually since 2006. As of the end of 2009, China's wind energy capacity surpassed 24 million kilowatts, ranking the second in the world after the United States.
Meanwhile, the country has also been focusing on closing down incompetent high energy consumption industries, with the report stating that some 1,259 small mines had been closed since mid-September 2009, surpassing the country's goal for that year by 80 percent.
However, the report also referred to various problems with the current environmental protection actions. It stated that some local governments believe that economic development is incompatible with energy saving and emission reduction, yet they still blindly invest in high energy consumption industries to pursue economic growth.
This has led to a number of energy-saving goals that lack of scientific research, however, being accepted by local governments without detailed implementation plans and policy support.
A US electronics company invented a charger that draws its power from Wifi signals, according to TGDaily.com.
The "Green Seeds" chewing gum bottle designed by Jiang Gonglue makes it easier for you to deal with gum residue.
A French graduate designed a kettle using an incandescent bulb to heat water, according to dezeen.com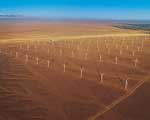 China Wind Power 2010 is the largest and most important international wind power conference and exhibition in China.
TradeWinds Shipping China 2010 moves to examine every important facet of the shipping industry's fortunes.
Outdoor Lifestyle Hangzhou Fair will attract reputed suppliers, buyers and agents from around the globe.