Xi reiterates support for Europe
Updated: 2012-02-20 10:30
By Zhang Haizhou (China Daily)
| | | | | | | | | | | |
| --- | --- | --- | --- | --- | --- | --- | --- | --- | --- | --- |
|   | | Comments() | | Print | | Mail | | Large Medium  Small | 分享按钮 | 0 |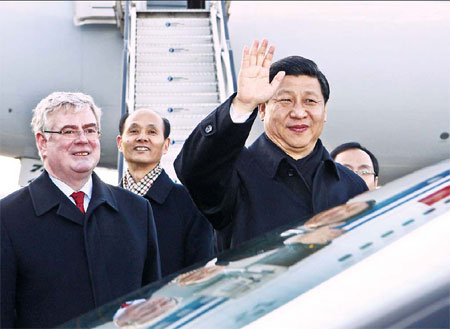 Vice-President Xi Jinping arrives at Shannon Airport in western Ireland on Saturday at the start of a three-day visit. [Photo/Xinhua] 
Vice-president offers help to tackle debt crisis as he visits Ireland
SHANNON, Ireland - Vice-President Xi Jinping reiterated China's support for Europe as it addresses the debt crisis when he arrived in Ireland on Saturday for a three-day visit.
"China will continue to support, in its own way, efforts of the EU, the European Central Bank and the International Monetary Fund to address the European debt problem," Xi said in an interview with the Irish Times at the start of his trip to Ireland.
"We have offered sincere help to our European friends in line with our means, through increased mutual investment and business cooperation," he said.
This month has seen China express, at the highest levels, support for Europe.
President Hu Jintao told European Council President Herman van Rompuy and European Commission President Jose Manuel Barroso in Beijing on Wednesday that China would join international efforts to back Europe and the eurozone.
During the China-EU summit on Tuesday, Premier Wen Jiabao pledged that China would play a bigger part in resolving the European sovereign debt issue.
Wen also said at a meeting with German Chancellor Angela Merkel earlier this month that China would consider greater involvement, especially through the European Stability Mechanism and the European Financial Stability Facility.
But Xi also hinted that Europe should play a major role in resolving the crisis. China believes that the difficulties facing Europe are "temporary", he said.
"The EU and the governments and people across Europe have the ability, the wisdom, and the means, to solve the sovereign debt problem and achieve economic recovery and growth," he said in the interview.
The EU is China's largest trading partner and biggest export market, while China is close to becoming the EU's biggest trading partner. Trade reached $567 billion in 2011.
Beijing has also been Ireland's biggest trading partner in Asia for five years with trade hitting $5.87 billion in 2011.
In the same interview, Xi said that he believed his trip will enhance cooperation between Beijing and Dublin.
This would focus on certain sectors, such as "biotechnology, agriculture and communication technology", he told the Irish Times.
The paper said Xi's arrival in Shannon on Saturday was "a getting-to-know-you trip to our shores". It was "a rare opportunity" for Ireland to boost trade relations with the world's fastest-growing major economy.
Shannon is located in County Clare and the local newspaper, The Clare Champion, quoted Fine Gael politician Pat Breen, a member of Ireland's parliament, as saying he is hopeful that the visit will help attract Chinese tourists.
"The entire visit will be broadcast throughout China with several television crews and a group of influential journalists traveling with the entourage and it is this coverage which presents County Clare with the opportunity to showcase our tourism product to the 1.4 billion people living there," he said.
While 2 million Chinese tourists go to Europe each year, he added, only about 10,000 travel to Ireland.
Apart from politics and commerce, cultural exchanges are a priority of Xi's visit.
Ireland also hosts more than 10,000 Chinese students, more than any other EU country on a per capita basis.
"We should encourage cultural, art groups and artists from both countries to interact and cooperate," Xi said.
Ma Zhengang, former director of the China Institute of International Studies and former ambassador to the United Kingdom, said Xi's visit to Ireland is mainly "a trip of friendship".
"The strengthened relationship will also send a positive signal to Europe, which is still struggling with the debt crisis, that China is ready to help," Ma said.
Cheng Guangjin in Beijing contributed to this story.