Rate of rise in Web use falls
Updated: 2012-02-06 09:20
By Gao Yuan (China Daily)
| | | | | | | | | | | |
| --- | --- | --- | --- | --- | --- | --- | --- | --- | --- | --- |
|   | | Comments() | | Print | | Mail | | Large Medium  Small | 分享按钮 | 0 |
Mobile Internet seen as next sector for growth in the industry
BEIJING - The Chinese mainland still lags behind Taiwan, South Korea, Japan and some other economies in Web use despite recent official statistics showing it already has more than 500 million netizens.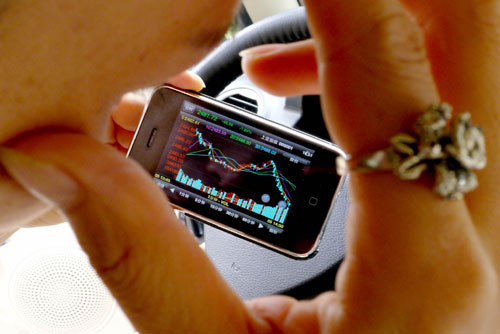 A man in a car using a smartphone to browse online stock information. The mobile Internet sector is expected to be a major engine in the development of the country's Web industry in the years to come.[Photo/China Daily]
The China Internet Network Information Center (CNNIC) reported last month the mainland's Internet population reached 513 million in 2011, although the rate of increase was at a decade low.
The mobile Internet sector is expected to be a major engine in the development of the mainland's Web industry in the years to come, according to CNNIC.
A little fewer than 40 percent of people on the Chinese mainland were connected to the World Wide Web as of December, up by 4 percentage points compared with 2010's figure.
Although the penetration rate has beaten the Asian average of 24 percent, the figure still lagged behind many economies, such as Japan, South Korea, Singapore and Taiwan, said Miniwatts Marketing Group, a global Internet analysis company.
The mainland added 55.8 million new Internet users over the past year, the smallest annual increment since 2006.
The half billion users could be a "plateau" for the mainland's Internet industry, said CNNIC, a government-supported organization that monitors the mainland's Internet industry. The number of Internet users had soared both in 2008 and 2009 with nearly 90 million new users added each year, it added.
CNNIC worried that the country may find itself harder to enlarge the Internet population in the coming years because almost everyone with the education and appropriate income to meet the basic requirements of surfing the Web has already become an Internet user.
Mobile Internet
The number of mainland mobile Internet users reached 356 million as of December, up by 17.5 percent year-on-year, according to CNNIC, which added that the rate of increase was lower than in the previous two years.
"The telecommunication carriers' strategy to lower traffic charges in order to get a larger market share in the industry contributed to a boom in user numbers in 2009 and 2010," said CNNIC. The carriers' focus has shifted to promoting smartphones to mid- and high-income buyers, a move that has "very limited" effect on boosting Internet user numbers, it added.
As few as 36.5 percent of Chinese cell phone owners are using their mobile devices to connect to the Internet.
CNNIC estimated that the next round of fast growth in China's mobile Internet sector is foreseeable as more major online service providers invest more in the market and develop more diversified products for customers with different demands.
Micro-blogging
Users of micro blogs witnessed a rapid surge in the past year.
CNNIC estimated that the mainland had 250 million micro blog users as of December, a figure that was four times 2010's number of 63 million. Some in the industry said the figure was too conservative.
Cao Guowei, chief executive officer and president of Sina Corp, said there were more than 250 million account holders on Sina Weibo. "There are nearly 100 million tweets on Sina Weibo every day," he said.
Tencent Holdings Ltd, another micro blog operator, claimed in November that there were 310 million users on its platform, t.qq.com, an amount that could easily cover half of the country's entire Internet population.
But the report also pointed out that the explosive increase in account numbers came to an end in the first half of 2011, when the growth rate of new accounts dropped to 28.2 percent half-year-on-half-year, the report said.
E-commerce
A total of 194 million Internet users are online purchasers, making up 37.8 percent of total Internet users, said CNNIC, adding that this amount has surged by more than 20 percent year-on-year.
The user number in the group purchasing sector saw a rapid increase regardless of the fact critics say group purchasing needs a better profit model to survive. More than 64 million Internet users participated in group purchasing activities in 2011, covering more than 12 percent of the total Internet population, CNNIC estimated.
The number of the mainland's group purchasing websites dropped to 3,897 in December from more than 5,000 at the beginning of 2011, said a report released by group purchasing navigation website tuan800.com.
Although industry integration buffeted the nation's group purchasing sector in the first half of 2011, the websites were able to find themselves a more specific market in which to run their businesses in the second half, said CNNIC.
"The rapid development in group buying, online payment and online travel booking sectors will enable China's e-commerce industry to keep growing in 2012," it said.
In 2011, the mainland's online shopping market generated 773.5 billion yuan in trading volume, according to a separate report released by Internet research company iResearch Consulting Group on Jan 12.