Moutai's status provides a headache
Updated: 2012-02-04 09:53
By Qiu Bo (China Daily)
| | | | | | | | | | | |
| --- | --- | --- | --- | --- | --- | --- | --- | --- | --- | --- |
|   | | Comments() | | Print | | Mail | | Large Medium  Small | 分享按钮 | 0 |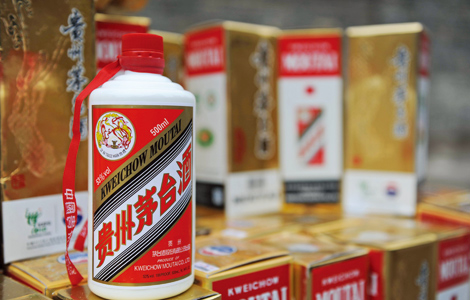 Liquor products made by Kweichow Moutai Distillery Co are becoming increasingly expensive. [Photo / China Daily]
MAOTAI, Guizhou - Kweichow Moutai Distillery Co, which makes baijiu, China's most famous white spirit, is a little miffed about its status as a luxury brand.
Or perhaps the company is upset that its Moutai brand isn't as beloved by Chinese millionaires as the fashion brands Louis Vuitton, Cartier and Hermes.
The company's source of animosity is the Hurun Best of the Best Awards 2012, issued by the Hurun Research Institute in January. In the press release, the institute ranks Moutai as the fourth most expensive luxury brand in the world.
The Hurun Report, a publication that studies China's upper class and its lifestyle, surveyed 503 Chinese whose individual wealth is more than 10 million yuan ($1.58 million).
The report also lists Moutai as the fourth-most valuable brand behind the LVHM SA unit Louis Vuitton, Hermes Group and BMW AG, but higher than Daimler AG's Mercedes-Benz and Chanel SA.
Moutai officials were quick to criticize the survey, partly because it doesn't want to be seen as a brand that is getting more and more expensive for the average consumer.
Nonetheless, the fact is that Moutai is experiencing a strange paradox at the moment. In December 2010, the company raised prices of most of its bottles to be released in 2011 by 20 percent. After the price hike, the average price for a bottle of Moutai jumped by 300 yuan for a 0.5-liter bottle to about 1,900 yuan.
Liquor evaluators are also attempting to put the prices of vintage bottles of Moutai (the spelling for the generic name of the white spirit) from various Chinese producers of baijiu on an even footing with some of the most sought-after bottles of French wine.
In a recent auction at Beijing Googut Auction Co, devoted only to aged Moutai, Liu Xiaowei, the chairman of the auction house, put the price of a 1982 vintage bottle of Moutai at between 10,000 yuan and 20,000 yuan.
Moutai is therefore in a quandary: How does it market itself as being affordable to consumers as China's rising affluence and growing demand for the product as an ideal gift inflates the price?
During this year's Spring Festival, salespeople for Beijing stores that carry Moutai were trying to sell the company's flagship beverage 53-degree Flying Moutai at more than 2,000 yuan per bottle.
What's more, a salesperson for the company, who would only give his surname Yang, said the company expects to raise its current ex-factory price of 53-degree to wholesalers from 620 yuan per bottle to more than 900 yuan.
The increasing enthusiasm has been a boon to Moutai. According to the stock information site Hexun.com, in January the company's share price stood at 190 yuan per share, resulting in a market capitalization of approximately 194 billion yuan.
On Jan 18, the company estimated that profit would grow by 65 percent. Its net profit in the first three quarters of 2011 was 6.93 billion yuan, 57 percent higher compared with the same period in 2010.
Moutai is also quickly expanding its production capacity. In 2003, the company's annual output was about 10,000 tons. In the past eight years, output has been growing steadily.
"Output in 2011 was 26,000 tons," said Wu Hua, a press officer with Moutai.
Last year, Yuan Renguo, Moutai's general manager and board chairman, told China Business News that the company's revenue should grow by 8 percent year-on-year in the next five to 10 years.
But drinkers are complaining that the liquor is becoming too expensive.
"Rising costs are a reason (to explain the price hike)," said Liu Wenke, an official with the economic development office of Maotai Town in Guizhou province.
Liu said the price of the locally produced, high-quality sorghum used in the production of Moutai has tripled since 2008, from 2.4 yuan per kilogram to 7.2 yuan.
There is also limited land in the town, which liquor experts say is the ideal area to produce baijiu because of the local mountain waters. That means every time Moutai expands its workshop areas and factories, a large amount of compensation has to be paid to families whose homes are demolished to make way for the expansion.
The company said that, in return for the demolition, it hires one member of each uprooted household.
"A new employee earns 60,000 to 70,000 yuan per annum," Liu said.
He said that in 2011 some 900 households were relocated; in 2012, the figure will be close to 400.