Website will take on group-buying giants via China
Updated: 2012-02-04 09:45
By Su Zhou (China Daily)
| | | | | | | | | | | |
| --- | --- | --- | --- | --- | --- | --- | --- | --- | --- | --- |
|   | | Comments() | | Print | | Mail | | Large Medium  Small | 分享按钮 | 0 |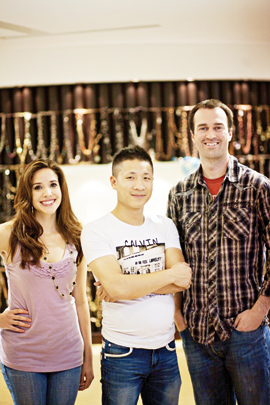 Danielle and Jonathan Jenkins work closely with a Chinese jewelry supplier. Provided to China Daily
HANGZHOU - Jonathan and Danielle Jenkins, a young couple from Texas in the United States, want to challenge Jack Ma's e-commerce empire. Even though they speak little Mandarin, the Jenkins' started OrderWithMe.com in July in Hangzhou, the cradle of Ma's Alibaba Group.
The group-buying website allows small and medium-sized Western companies to buy high-quality products in bulk from Chinese factories. In turn, this allows the retailers to save money and earn greater profits.
OrderWithMe competes with AliExpress, a similar platform operated by Alibaba, but the Jenkins' said they can do better.
"Most small businesses cannot order directly from Chinese factories because they cannot meet the factory minimum quantity. Small businesses are also wary of buying a product from China without seeing it first," said Jonathan Jenkins.
By grouping orders from multiple small businesses together, OrderWithMe gives retailers the opportunity to meet the minimum order requirements.
In six months, OrderWithMe has already handled $100,000 in transactions. Businesses log on to the website, browse products and pre-pay for the items they want. If the order is worth more than $250, the items are delivered free of charge.
"I once met staff members from Alibaba at a trade show in Las Vegas. They were very interested in our idea," said Jenkins.
Alibaba uses a third-party payment system called Alipay. Buyers pay for the items upon ordering, but Alipay places the money on hold until the buyer confirms the order has been received.
OrderWithMe, on the other hand, pays factories directly, eliminating the payment delay.
"Alibaba is a great company, but small businesses need more than just an e-mail contact with a factory."
Jenkins is fully aware of the growing competition and has decided to move faster to gain an advantage in the group-buying platform.
After securing $3 million in angel funds from the Sino-Japanese Infinity Venture Partners and the US firm SOSventures Investments, the company's website is undergoing a face-lift, which will be unveiled on Feb 20.
Because of its six-month growth spurt, the company has expanded from a 100-square-meter (sq m) office to a 2,000-sq-m warehouse. And in three month's time, the two hope to look at business opportunities in Japan.
Beyond simply growing in size, the company also plans to offer more products and more categories.
"We only started from a niche of fashion and home decor. But our customers need more," said Jackson.
OrderWithMe is currently researching products ranging from home-and-garden supplies to electronics.
"Our US buyers work with the pre-qualified factories to select their best products. Our customers will give us feedback on which items they like. Our buyers will then select the top products to be available for deals (posted on our website)," said Danielle Jenkins. "After the deal runs, we group the small-business orders together and place one large order with the factory."
OrderWithMe plans to branch out beyond Chinese brands and offer its own products this year, starting with fashion accessories and home decor. In-house employees will design the products, and production will be outsourced to Chinese manufacturers.
"A lot of Chinese factories don't know how to market their products in a way that captures the attention of Westerners. And their Chinese brand names may not make any sense in English or don't sound appealing, such as Yang Hangzhou Leather Company Ltd," Jonathan Jenkins said.
He added that new products will debut online each week once the new website is up and running.
Unlike Chinese foreign-trade websites, OrderWithMe is the combination of "foreign trade" and "group buying". It integrates the demands of small businesses all over the world and offers the same prices offered to large retailers.
Its business model is simple: by allowing the retail stores to buy directly from the factories, they can save up to 70 percent of the price offered by a US wholesaler.
"We are cutting out so many middlemen and providing the best prices to the small businesses," said Gao Yang, co-founder of OrderWithMe.
Jonathan Jenkins said the company helps small Western businesses connect with the Chinese e-commerce world.
"Everyone knows that it is cheaper to buy directly from China, but most people are overwhelmed by the number of factory options," he said.
The Jenkins said their team simplifies the process of buying overseas goods. OrderWithMe finds the products customers are looking for, takes pictures and video, and interacts with customers via Twitter, Facebook, e-mail and the phone.
"We take care of our customers and treat them like family. And with our money-back guarantee and the ability for them to talk to our buyers, they learn to trust us," Jonathan Jenkins said.
He conceived the idea of purchasing goods in China and bringing them to the US while touring the Middle Kingdom. He graduated from Abilene Christian University in Texas in 2005 with a degree in political science and took a teaching job in Shanghai soon after.
During his travels, he noticed how inexpensive items were in Yiwu in Zhejiang province, a town known for its wholesale small merchandise market.
"In the US, a handbag may cost you $50, but in Yiwu, it will only cost you $4," Jonathan Jenkins said. "I thought it could be a successful business if I bought goods from China and sold them in the US."
So he opened two shops in Texas under the name of 'Zida", a Chinese word which means to be arrogant or conceited.
"We picked the name because the American women thought it was funny, because they like to buy fashion accessories to feel better and look cooler," Jonathan Jenkins said.
He purchased a variety of items from China. However, because he was required to order at least 100 of each item from factories in Yiwu, he was overloaded with inventory and his business ultimately failed.
"I was thinking that if I could create a group-buying platform that would allow small businesses to buy together, then we would remove the inventory risk," Jonathan Jenkins said. "Small businesses are too busy to sort through thousands of handbags, so our buyers can help them quickly find the best products."
Although they learned from their mistakes, the couple did have encounter some problems in the beginning. It took at least four months working with the local government to get the company fully operational.
"There are limitations on foreign-funded companies, but I think things are getting better now," Gao said.
But the most trying time might be the next three months, as the company looks to expand as well as debut a redesigned website.
Jonathan Jenkins wants the company to grow quickly to squash competitors, but at the same time, doesn't want to lower its service standards.
Many websites in China, such as LightInTheBox.com and DinoDirect.com, are jumping into the e-commerce market for foreign trade, but it's not as easy as it looks.
"Foreign-trade websites will face the problems of brand recognition, cultural differences as well as the high cost of tax and delivery," said Chen Shousong, an e-commerce analyst at the market-research firm Analysys International. "It is not easy for small- and medium-sized businesses to succeed in this sector.