Iron ore trade platform will improve price transparency
Updated: 2012-01-17 10:10
By Du Juan (China Daily)
| | | | | | | | | | | |
| --- | --- | --- | --- | --- | --- | --- | --- | --- | --- | --- |
|   | | Comments() | | Print | | Mail | | Large Medium  Small | 分享按钮 | 0 |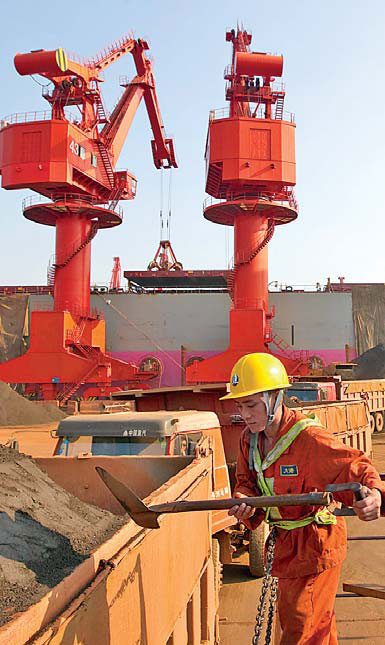 Workers unload imported iron ore at Qingdao port, Shandong province. China launched a physical iron ore spot trading platform on Monday. [Photo/China Daily]
BEIJING - China launched its first iron ore spot trading platform on Monday, a move meant to help the nation - the world's largest user and importer of the commodity - gain more influence in global pricing.
The China Beijing International Mining Exchange (CBMX) launched the online platform together with the China Iron & Steel Association (CISA) and the China Chamber of Commerce of Metals, Minerals & Chemicals Importers & Exporters.
"The iron ore market should be determined by and reflect real supply and demand. However, monopoly practices and price manipulation have exerted a big impact on prices" and hurt many Chinese companies, said Wang Xiaoqi, vice-chairman of CISA.
China accounts for 60 percent of the global iron ore trading market. The nation's iron ore sources increased from 48 countries in 2010 to 67 in 2011, and there was a marked expansion in physical transactions.
However, the widely used Platts iron ore index is regarded with some skepticism as to its transparency and fairness by steel companies and iron ore traders from China, Japan, South Korea and Europe, according to Wang.
"It is very important to build a public platform in China to improve the development of the industry," he said.
CBMX is also publishing a new iron ore pricing index, an attempt to better reflect supply and demand as well as reduce price volatility.
The GlobalOre trading exchange, backed by the mining giant BHP Billiton Ltd and based in Singapore, will face a threat from the new Chinese platform.
According to a trader who just returned from Singapore, speaking on condition of anonymity, many big domestic iron ore suppliers and steel producers have stopped trading on GlobalOne or halted moves to join it.
Wang said he hoped that Chinese steel mills would choose the new platform, and he welcomed foreign participants as well.
According to CBMX, China's major steel companies - including Baosteel Group Corp, Hebei Iron & Steel Group Co Ltd, Wuhan Iron and Steel Group Corp, Shougang Group, Angang Steel Co and China National Minerals Co Ltd, a subsidiary of China Minerals Corp - have agreed to become the members of the new platform.
To avoid speculation, financial organizations and banks aren't allowed to participate in the platform, CMBX President Dong Chaobin said in November.
The new platform won't trade iron ore derivatives.
Dong said the shareholders of the platform would be the China Beijing Equity Exchange, Aluminum Corp of China and China Everbright Group, though he declined to break down the shareholding.
He said the price index would be based on actual transactions at domestic and foreign ports, which would be more accurate and fairer than other methods of calculation.
The online platform will post the prices of completed trades online without identifying buyers or sellers, a move meant to improve the accuracy and reliability of price statistics.
Liang Ruodong, vice-president of the exchange, said many overseas steelmakers had shown an interest in the platform and might join the system.
According to CISA, China imported 686 million tons of iron ore in 2011, up 10.9 percent year-on-year.
The domestic steel industry had a tough year because of rising costs and falling demand. Total crude steel production in China last year was 680 million tons, up 8.6 percent.
Cast iron production was 630 million tons, up 6 percent.