China nuclear targets to be cut in wake of Fukushima disaster
Updated: 2011-10-22 10:22
By James Pomfret and Leonora Walet (China Daily)
| | | | | | | | | | | |
| --- | --- | --- | --- | --- | --- | --- | --- | --- | --- | --- |
|   | | Comments() | | Print | | Mail | | Large Medium  Small | 分享按钮 | 0 |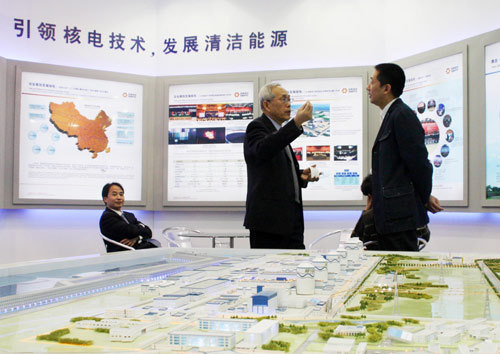 A nuclear power technology booth at an expo. China is scheduled to release a revised blueprint for its nuclear sector this year, with a new capacity target of 86 gigawatts by 2020. Nan Shan / for China Daily
Country is scheduled to release a revised blueprint for the industry
HONG KONG - China's nuclear capacity targets for 2020 are likely to be scaled down after the country imposed a moratorium on new-project approvals following the Fukushima disaster in Japan in March, industry officials said on Friday.
China is scheduled to release a revised blueprint for its nuclear sector this year, with many predicting a new 2020 target of 86 gigawatts (GW).
Capacity at the end of 2010 stood at 10.9 GW, but projects already under construction would have pushed the total up to 40 GW by as early as 2015, and China's bullish reactor builders even suggested a target of 100-120 GW was within reach.
But Beijing promised to "adjust and improve" its plans for the sector after an earthquake and tsunami devastated Japan's northeast coast and left the aging Fukushima Daiichi reactor complex on the brink of meltdown.
Li Yongjiang, vice-president of the China Nuclear Energy Association (CNEA), said on the sidelines of an industry conference in Hong Kong that new projects were likely to be resumed next year, but that the country had already lost a year of construction time.
"The 86-GW target was still a very tight target in the first place," he said, adding that the suspension had forced the delay of around 10 GW of new capacity this year.
"If we start from next year, we'll only be able to build 60 to 70 GW so we will definitely have to reduce (the target)," he said.
In March, the government ordered a nationwide inspection of existing plants and construction sites in order to allay public disquiet about the safety of nuclear power.
Areas of concern included the safety of the many "second-generation" reactors set to go into operation, the shortage of qualified safety and operational personnel, and the possible construction of nuclear projects in seismically vulnerable provinces such as Sichuan.
Officials have suggested that no new second-generation reactors will be approved, leaving the way clear for third-generation models designed by France's Areva SA and the US-based Westinghouse Electric Co, a subsidiary of Toshiba Corp.
Chinese officials have stressed throughout the inspection period that while the pace of development could be adjusted in the wake of Fukushima, plans for long-term expansion of capacity will remain intact.
"We should ensure the safety of nuclear energy before coming up with new projects," said Zhao Chengkun, vice-chairman of the CNEA.
"So, although we're kind of slowing down right now, I'm sure that once we overcome all our challenges we'll be able to develop further."
Senior energy officials have expressed concern that the current impasse will hurt China's long-term aim of becoming a global leader in the nuclear sector.
In August, the former head of the CNEA, Zhang Guobao, said that new industry policies had to be drawn up as soon as possible if the country was to avoid falling behind countries such as South Korea and Russia.