China, ASEAN eye co-op for regional growth
Updated: 2011-10-22 09:36
By Qin Jize and Bao Chang (China Daily)
| | | | | | | | | | | |
| --- | --- | --- | --- | --- | --- | --- | --- | --- | --- | --- |
|   | | Comments() | | Print | | Mail | | Large Medium  Small | 分享按钮 | 0 |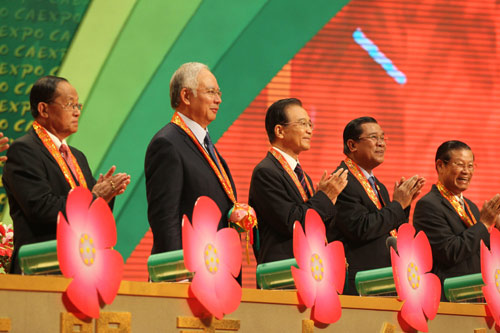 Chinese Premier Wen Jiabao (center) attends the opening ceremony of the eighth China-ASEAN Expo in Nanning, capital of South China's Guangxi Zhuang autonomous region, on Friday. Wu Zhiyi / China Daily
NANNING - Premier Wen Jiabao on Friday urged China and ASEAN to increase the scale of currency swaps, pledging to boost the imports of competitive products from the regional bloc.
"China is willing to have close cooperation with ASEAN to expand the scale and range of currency swaps to further enhance the region's ability to tackle global financial risks," Wen said while addressing business leaders and government officials at the opening of the eighth China-ASEAN Business and Investment Summit.
He promised to build a China-ASEAN commodity trade center in the capital city of South China's Guangxi Zhuang autonomous region to serve as an exhibition platform and logistic base for both sides.
"I hope the ASEAN enterprises will take advantage of this platform to win an even bigger Chinese market share," Wen said.
Though Wen did not specify how China and ASEAN will expand currency swaps, Reuters quoted unnamed sources that the two sides plan to sign a framework agreement to settle trade in yuan late this year or early next year.
It said once the deal is signed, China would then negotiate individually with ASEAN members and sign currency swap agreements, allowing non-Chinese companies to settle their yuan-denominated transactions with banks in their own countries, rather than doing so through Hong Kong.
China already has swap agreements with three of the ASEAN members: Indonesia, Malaysia and Singapore.
Yuan Bo, with the research institute under the Ministry of Commerce, told China Daily on Friday that the international settlement of the renminbi will help reduce transaction costs and losses resulting from the fluctuation of exchange rates for traders both from China and ASEAN members.
"If China and ASEAN could settle trades in yuan late this year or early next year, it will be an example and a very good opening for other free-trade areas and the internationalization of the renminbi.
Expanding imports
"China is willing to expand imports from ASEAN," said Wen.
China is currently ASEAN's biggest trading partner and Chinese customs data showed that bilateral trade rose 26.4 percent in the first nine months of 2011 to $267 billion with an $18.9 billion surplus in favor of the bloc.
From January to September, China's imports from ASEAN surged by 27.9 percent from a year earlier to $143 billion, compared with 26.7 percent for China's imports growth during the same period.
"The China ASEAN Free Trade Area has increased rather than decreased the international competitiveness of ASEAN and ASEAN's capacity to export to China has become stronger rather than weaker," said Wen, asking the two sides to find proper solutions to problems in the zone's development.
The China-ASEAN Free Trade Area came into effect in January 2010, and it is the first FTA that China had and also the largest FTA worldwide.
China pledged to boost imports last year in a bid to balance trade, while the nation has been under pressure to allow its currency to rise.
Zhong Shan, vice-minister of commerce, said recently that China will try to enlarge imports from emerging markets and markets that run big trade deficits with China, referring to the United States and European Union.
"Growth momentum of China's imports from ASEAN is just starting as the economies of the two sides are highly complementary and China's economy is rising rapidly," said Zhang Xiaoji, senior researcher at the Development Research Center of the State Council.
ASEAN is the third largest source for China's imports. In 2010, China's imports from ASEAN increased 44.8 percent to $154.6 billion, while exports surged 30 percent.
China's imports are mainly mechanical and electrical goods. As demand from developed nations slackens and they retain export control over high-tech goods to China, emerging markets including ASEAN members become more important to facilitate China's increasing imports, said experts.
Wen also noted that the Chinese government encourages mutual investment by enterprises on both sides, adding that China has made the commitment to establish an economic cooperation area in each ASEAN members.
According to Wen, ASEAN's direct investment in China reached $67.3 billion while Chinese investment in the block has accumulated to $13.5 billion.
Wen's pledge was echoed by Surin Pitsuwan, secretary-general of ASEAN, as he expressed his hope for China to further increase its investment in ASEAN. He said ASEAN members are willing to work together with China to push forward mutually beneficial cooperation.