Manufacturing firms need assistance
Updated: 2011-08-24 14:32
By Luo Jun (China Daily)
| | | | | | | | | | | |
| --- | --- | --- | --- | --- | --- | --- | --- | --- | --- | --- |
|   | | Comments() | | Print | | Mail | | Large Medium  Small | 分享按钮 | 0 |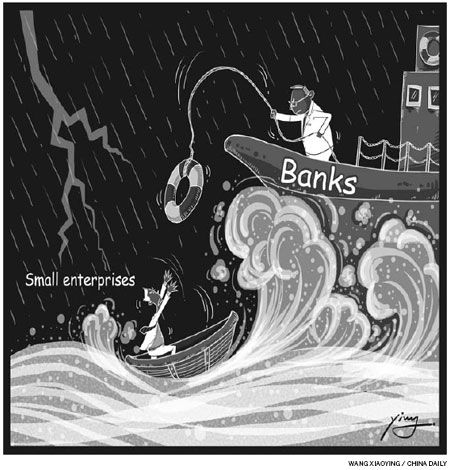 China's manufacturing industry is showing a declining trend, with production likely to drop again in the third quarter of this year. This is the greatest challenge the industry has faced since the global financial crisis that started in 2008. But, unlike during the financial crisis, the problems faced by the industry today are related to the domestic market.
This trend is not a nationwide phenomenon, however. The decline has mostly been in coastal areas such as Guangdong and Zhejiang provinces, because many of the manufacturing companies there are labor intensive and original equipment manufacturers with low-addition values.
During the global financial crisis, shrinking capital was main cause of the manufacturing industry's problems. The financial crisis led to a sharp decline in demand in overseas markets. But the industry's problems today are pre-eminently domestic and can be divided into four parts.
The first problem is the government's tight monetary policy. In the first half of this year alone, the central bank raised interest rates twice and reserve requirement ratio six times to cool down overheated sectors such as real estate, and prevent credit lines of some manufacturing companies from shrinking further by making it difficult for them to get loans.
According to data provided by some financial institutions, though incomplete, only about 20 percent of the small- and medium-sized manufacturing companies can get bank loans as easily as before, prompting many companies to raise or lend funds illegally. Interests on bank loans this year are four to five times higher than they used to be, and the cost of non-governmental financing can be 10 to 20 times more than bank loans. Since the average normal profit of the manufacturing industry is only about 10 percent, most of the companies cannot afford funds at such high costs.
Second, given the immense pressure on resources and the environment, it is becoming increasingly difficult for small manufacturing units to bear the huge cost of investment. To survive, such companies have to either transform or upgrade themselves, which is not possible for most of them to do immediately.
Third, the rising cost of raw materials and salaries is cutting into manufacturing companies' profits. In fact, to protect workers' interests, some local governments have made it mandatory for many companies to raise their wages by a certain percentage every year.
And fourth, since some companies had spread their wings into many industries, their "failure" to increase production in one has caused a chain reaction in others. Compared with many high-profit industries such as real estate, manufacturing needs a much longer time to yield fruits. Those that had diversified into real estate to make a quick buck and got into trouble because of the government's tough policies toward the sector are just one example of such companies.
The credit lines of manufacturing companies should not be allowed to shrink. They have to maintain at least last year's level. And financial institutions should supervise to prevent loans from flowing into the overheated industries.
The interest rate for the manufacturing industry, too, should not be more than last year's level. Besides, the government should offer soft loans or financial subsidies to companies that have high technological content, for example, those that own intellectual property rights or have good market prospects.
The manufacturing industry is facing a tough situation just three years after the global financial crisis. It is thus important to review such situations thoroughly to avoid them in the future.
There are three things that can be done in the given situation. First, manufacturing companies should stick to their areas of specialization to get the maximum advantage. Although diversification seems a good idea both from the international and domestic perspective, less than 10 percent of the companies that try to diversify succeed in the end.
Second, manufacturing companies should focus on technological innovation and use science and technology to their fullest advantage. For most manufacturing companies, using technology to innovate is the key to success. But since innovative products hit the market with unfailing regularity, some products risk going out of date overnight.
And last, a manufacturing company should expand according to its capacity and ability, instead of trying out atrocious plans to make a quick buck.
Experts say the last quarter of this year will see many changes in favor of manufacturing companies. And some policies to be issued in the near future could make the availability of funds easier for some companies and improve the overall situation in the manufacturing industry.
Moreover, once the overheated industries cool down, macroeconomic policies could create a more favorable financing environment for manufacturing companies. But the government should still take measures to ease the difficulties of the manufacturing industry in getting loans.
The author is CEO of Asian Manufacturing Association.