Editor's note:
People say running an organization is equivalent to conducting a symphony orchestra. No doubt good leadership is one of the key factors in the success of a company, giant corporations in particular. But what if the big boss departs? Will the company lose its mojo and fail? Not if the new leader fills his/her predecessor's shoes.
In the past 12 months, veterans have made their last shows as chief executives. Meanwhile, new faces were seen making their debut as top leaders. The conductor changes, but the symphony goes on as scheduled. That's part of the reason the world is eager to see the crescendo of China's economy.
Click for more "top ten" topics
1. SASAC replaces retiring State assets chief
2. China Mobile changes longtime CEO
3. CNOOC appoints Yang Hua as CEO
4. Chen Xiao quits as president of Gome
5. Suning Appliance appoints new president
6. Banking veteran resigns as CEO and chairman of Shenzhen Development Bank
7. China Merchants Bank changes chairman
8. ZTE ousts president, taps Shi Lirong
9. Ping An's general manager resigns for 'personal reasons'
10. Geely chairman to head board at Volvo Cars
1. SASAC replaces retiring State assets chief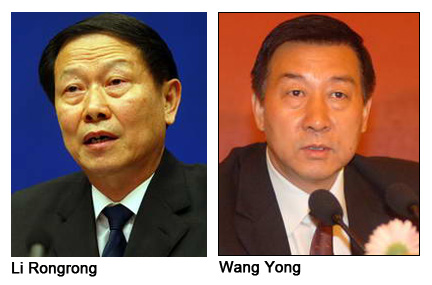 Li Rongrong, 66, stepped down from the State-owned Assets Supervision and Administration Commission (SASAC), where he had served as chairman since its formation in 2003.
The new chairman was Wang Yong, 55, who transferred from his post as director of the State Administration of Quality Supervision, Inspection and Quarantine. Wang is also a deputy secretary-general of the State Council, China's cabinet.
Li had retained his position as SASAC chief for about a year longer than usual. (Most top ministry officials in the Chinese government retire at age 65.) During his tenure, Li advocated making State-owned enterprises "larger and stronger." Through consolidations and closures, the number of central government-connected State-owned enterprises (SOE) shrank drastically, from 196 in 2003 to 123 in 2009. Li had planned to cut the number to fewer than 100. During Li's years in office, central SOEs paid 5.1 trillion yuan in taxes and posted combined net profits of 4.7 trillion yuan.
Related readings:


 Singapore Exchange, Chongqing SASAC sign MOU


 Wang Yong takes helm at SASAC


 Poly Real Estate share sale cleared by SASAC


 SASAC chief has work cut out
2. China Mobile changes longtime CEO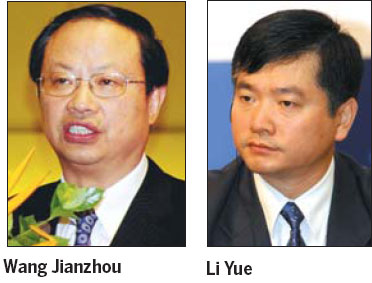 China Mobile, the largest mobile telecom service provider in the country by subscribers, changed its chief executive officer on Aug 19. Chief executive officer (CEO) Wang Jianzhou was replaced by the group's vice-president Li Yue.
The departure of Wang, 61, had been widely expected because he had passed the retirement age for State-owned enterprise executives. Wang had been in the post since he was shifted from the top job at China Unicom in November 2004.
As head of the country's largest telecom service company, Wang had become an unofficial spokesman for the industry over the past five years.
China Mobile had a total staff of more than 145,000 and a customer base of 522.3 million, and enjoyed a market share of approximately 70.6 percent in the mainland as of the end of 2009.
Related readings:


 China Mobile to take on Baidu with search engine


 China Mobile's former head punished for corruption


 China Mobile slides after Vodafone dumps stake


 China Mobile, SPDB agree on mobile finance co-op
3. CNOOC appoints Yang Hua as CEO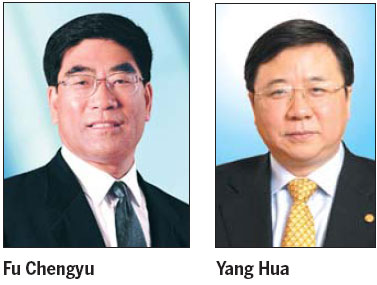 China National Offshore Oil Corp (CNOOC), the country's third-largest oil and gas company, said in August that its CEO Fu Chengyu would resign from the position but remain as chairman. The company named Yang Hua as new CEO and vice-chairman. Before Yang took office on Sept 16, he was the chief financial officer of CNOOC.
Analysts said that it's a sign that the 59-year-old Fu is gradually making way for new leadership at CNOOC.
In addition, industry analysts said the change in leadership was signaled in May when SASAC announced five promotions within CNOOC.
The company's revenue for the first half stood at 83.2 billion yuan, more than double the 40.7 billion yuan from a year ago.
Related readings:


 CNOOC to increase new energy production


 CNOOC and BP in talks on sharing production


 CNOOC, Chesapeake close $1b shale deal


 CNOOC speeds up LNG arm
4. Chen Xiao quits as president of Gome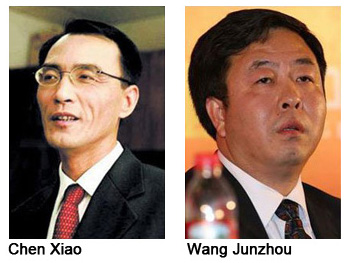 Chen Xiao, chairman and president of Gome Electrical Appliances, China's second-largest electronics retailer by market value, resigned from the position of president on June 28. However, he remained as chairman of the company.
Chen, 51, founder of Yongle Appliances, was named Gome's CEO after Yongle was acquired by Huang Guangyu's Gome. However, Chen and Huang's bouts to gain control of Gome have not stopped since then.
Chen was appointed Gome's chairman on Jan 16, 2009, after Huang, then chairman, was detained by police in connection with illegal business dealings, insider trading and corporate bribery. However, Huang tried to win his company back even after being sentenced to 14 years in prison.
So, from today's perspective, Chen's retreat was a step in his "strategic withdrawal" as he and the jailed Huang's dispute escalated in August.
Chen's successor, Wang Junzhou, took Gome's daily operations, including business strategies and annual budgets. The 48-year-old Wang has more than a decade's experience in sales and management in the electrical-appliance industry, and joined Gome in 2001.
Related readings:


 Gome agrees to appoint Huang's representatives to board


 Gome sees profit jump as possible peace deal looms


 Shareholders' vote sets up Gome for more battles


 Gome power struggle may abate
5. Suning Appliance appoints new president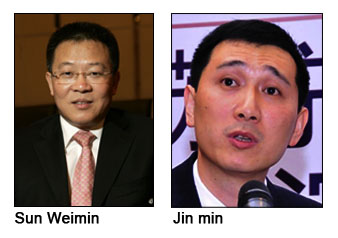 Suning Appliance Co Ltd, China's biggest home appliance retailer by market value, appointed Jin Ming as new president and nominated former president Sun Weimin as vice-chairman in July.
Jin Ming, 39, used to be vice-president of the company and director of marketing management of a home appliance company. As of March 31, 2010, Jin Ming holds a 1.7 percent stake in Suning.
Related readings:


 Suning to expand logistics and distribution


 Suning net profit soars in 2009


 Suning flips the switch on rural expansion plan


 Suning expands store footprint
6. Banking veteran resigns as CEO and chairman of Shenzhen Development Bank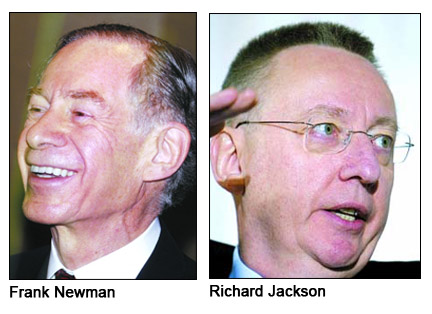 Frank Newman, chief executive and chairman of Shenzhen Development Bank Co, resigned on May 26. The bank's former president, Xiao Suining, will be named chairman, and Richard Jackson, the former president of Shenzhen Ping An Bank, was hired as president.
Frank Newman joined the bank in June 2005, and it was reported that his annual wages totaled 72 million yuan ($10.8 million) from 2005 to 2009, making him one of the top three senior officials of listed companies in China. He was hired as a senior consultant by the bank after the resignation.
Related readings:


Shenzhen Development Bank CEO Frank Newman resigns


Shenzhen bank sees net profits up 700%

Ping An, Shenzhen bank announce merger plan

Ping An may get 1.64b Shenzhen Bank shares
7. China Merchants Group changes chairman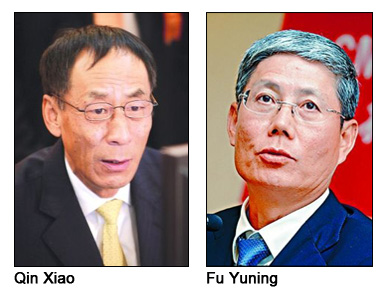 China Merchants Group announced management changes on Aug 23: the company's president Fu Yuning was appointed new chairman to replace the retiring Qin Xiao. Li Jianhong was named the new company president. Fu has been president for about 10 years.
China Merchants Group is the parent company of port operator China Merchants Holdings (International) Ltd and China Merchants Bank Co, the country's sixth-largest lender by assets.
Related readings:

China Merchants invests in African shipping


China Merchants Bank appoints new chairman


China Merchants Bank 2009 net profit declines 13.5%

China Merchants Energy Shipping profit down 72.2% in 2009
8. ZTE ousts president, taps Shi Lirong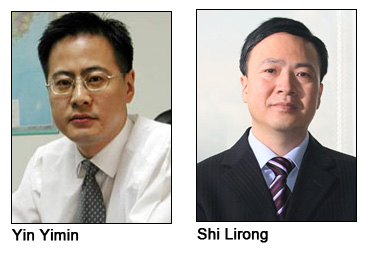 ZTE, a leading infrastructure manufacturer based in Shenzhen, Guangdong province, ousted longtime president and chief executive Yin Yimin in favor of executive vice-president Shi Lirong.
The company's executive shuffle comes amid rumors that Yin would resign at the end of March due to ZTE's struggle to compete with rival Huawei, another Shenzhen-based telecommunications manufacturer.
Shi's appointment came amid the election of three new board members: Hou Weigui as chairman, Lei Fanpei and Xie Weiliang as vice-chairmen.
However, the company's financial director, executive vice presidents and senior vice presidents retained their posts.
Related readings:


 Analysts: ZTE to reap benefits from tablet PC


 ZTE joins tablet PC bandwagon with Android offering


 ZTE to sell handsets in US through Verizon


 ZTE's 'Peel' has zest for profits
9. Ping An's general manager resigns for 'personal reasons'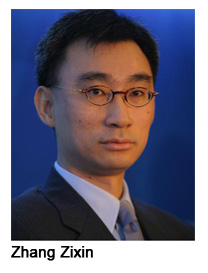 Zhang Zixin, general manager of Chinese Ping An Insurance, the country's second-largest insurer, tendered his resignation for "personal reasons" and his term of office will end on March 18, 2011, the insurer said on Nov 19 in a statement.
In a filing to the Hong Kong Stock Exchange, the insurer said that Zhang Zixin, also known as Cheung Chi Yan Louis, would continue his directorship with Ping An Insurance.
Ping An clarified that Zhang has no disagreement with the board and executive committee, and there is no other matter that should be brought to the attention of other directors, supervisors or shareholder in relation to his resignation.
Related readings:


 Ping An targets half of profit from non-insurance operations


 China's Ping An, CIC eye stakes in AIA


 Ping An chases after growth in clinical trials


 Ping An, SDB shares surge in Shanghai
10. Geely chairman to head board at Volvo Cars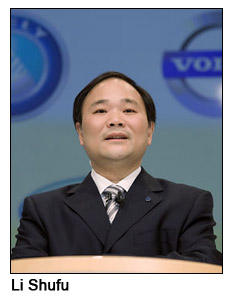 Chinese automaker Geely said on July 16 that board chairman Li Shufu would also be chairman of Swedish carmaker Volvo Cars.
Zhejiang Geely Holding Group, China's largest private carmaker and parent of Geely Automobile, named Hans-Olov Olsson, a former chief executive at Volvo Cars, as deputy chairman.
Li Shufu's Geely completed its acquisition of Ford Motor Co's Volvo unit on Aug 2 in a $1.5 billion deal. Industry analysts said 13-year-old Geely, barely known abroad, would face a struggle in integrating the two corporate cultures and turning around Volvo Cars, a perennial money loser, in a country with strong labor unions.
The deal was China's biggest overseas auto purchase.
Related readings:


 China's Geely on track to meet 2010 target


 China's Geely eyes online car sales


 Geely drops plan of UK cab firm buy

 Geely's Volvo gets a Chinese parking place in Shanghai