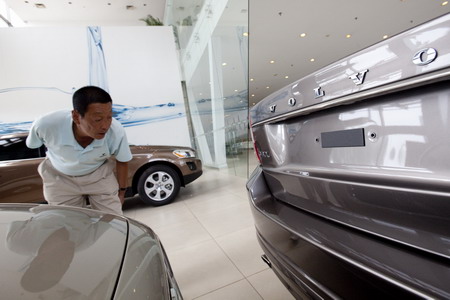 A customer examines a Volvo S90L sedan in Beijing. [Bloomberg via Getty Images]
BEIJING - Zhejiang Geely Holding Group Co Ltd has got the necessary approval to set up a production facility in Shanghai for Volvo cars, sources said on Thursday.
"Jiading will host the facility," said Jin Jianzhong, Party secretary of Jiading district in Northwest Shanghai, in a telephone interview with China Daily.
"We have reached an agreement with Geely on the matter and will provide a series of favorable policies for producing Volvo cars," said Yu Jianhua, deputy director of the Jiading Industrial Zone and Asset Management Committee.
However, both of the officials refused to disclose further details about the project, and said the local government and Geely will make a formal announcement in this regard soon.
A source familiar with the project said the National Development and Reform Commission has already cleared the plan.
Jiading district government said on its website that Geely will set up the new facility in the Jiading Industrial Zone with an annual capacity of 300,000 vehicles.
The plant will produce Volvo's three-door, four-seat hatchback C30 and mid-sized five-door estate car V70 in 2012.
Related readings:


 Geely-Volvo deal helps China go global


 Green leapfrog crucial to Geely's future


 Geely completes Volvo acquisition


 The brand journey of Geely and Volvo
The company will also locate Volvo's China headquarters, research and development center as well sales and sourcing center in Jiading. Work on the facilities is expected to begin in the first quarter of 2011 and is likely to be completed by the second half of 2012.
Jiading has already provided a 16,000-square meter workshop to Volvo for its temporary research and development center. By the end of this year, 200 to 300 engineers will work at the facility to develop cars for the Chinese market.
Analysts said Jiading, which is also home to Shanghai Volkswagen and several auto parts makers, will be an ideal location for Geely as it is China's automobile center and not located too far from Geely's headquarters in Hangzhou.
The automobile segment is the pillar industry in Jiading contributed nearly 38 percent or 18 billion yuan ($2.65 billion) to the district's industrial output in the first quarter.
This February, Geely's subsidiary Beijing Geely Wanyuan International Investment Co signed an agreement with Jiading government's Shanghai Jia'erwo Investment Co to establish Shanghai Geely Zhaoyuan International Investment Co for the planned Volvo project.
Earlier this month, Geely completed the acquisition of the Volvo car brand by paying $1.8 billion to Ford Motor Co, the biggest takeover by a Chinese automobile company overseas.