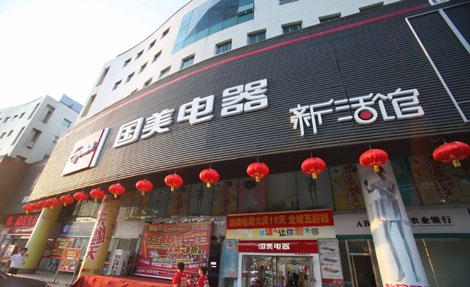 A Gome Electrical Appliances outlet in Beijing. [Photo/China Daily] 
BEIJING - Gome Electrical Appliances Holdings Ltd, China's second-biggest electronics retailer, has signed an agreement with its major shareholder, Shinning Crown Holdings Inc - owned by Gome's founder Huang Guangyu - to appoint two of Huang's representatives to the board.
The agreement recommended that Zou Xiaochun, Huang's lawyer, joins the board as an executive director and that Huang's sister, Huang Yanhong, should become a non-executive director.
"A Special General Meeting (SGM) will be convened in early December to seek shareholder approval for the enlargement of the board from 11 members to 13, and to ratify the appointment of the two proposed directors," a spokesman for Huang told China Daily.
Gome said that the parties involved have reached a consensus on a future strategy intended to build a stronger and more profitable business.
"It's legitimate that the major shareholder expresses his own interests through the special general meeting, and Gome's business will continue to grow as a whole," Chen Xiao, chairman of Gome, told China Daily.
Shinning Crown also said that it has no current intention to terminate any of the existing intra-group agreements between listed and unlisted groups under Gome.
Huang indicated that he might sell about 400 stores, (out of Gome's 1,141) that he privately owns after he lost his battle to wrest back control from Chen in September.
Huang, who is serving a 14-year jail sentence for bribery and insider trading, remains Gome's largest shareholder with a 32.47 percent stake.
The consensus may settle the Gome tussle, which has lasted for several months, and began when Huang sought to oust Chen.
Shareholders voted against replacing Chen Xiao by Zou Xiaochun and Huang Yanhong during an SGM in September.
"The truce between Gome's management and its founder not only benefits the company itself but also contributes to the whole electronics retail industry, as it means vicious competition which could lead to unhealthy developments in the industry can be avoided," Tang Jiarui, an analyst at Everbright Securities, said.
China's electronics retail industry is mainly controlled by Gome and Suning Appliance Company limited, which owns 1,206 stores nationwide.
Each retailer now has a market share of 8 percent, according to Everbright Securities.
"We are planning to increase the number of chain stores to 3,500 over the next 10 years, and expand our logistics bases to more than 60 within the next five years," Sun Weimin, vice-president of Suning, said.
Gome announced in August that store numbers will be increased to 1,900, and the company will also establish 10 new logistics bases.
"When Gome's third quarter financial report is released on Nov 16, we will see whether it has been influenced by the power struggle," Tang of Everbright said.
For the first three quarters this year, Suning reported revenue of 54.30 billion yuan ($8.19 billion), a 30.61 percent increase year-on-year and profit rose 43.58 percent to 2.83 billion yuan, according to its Q3 report released in late October.
"The retail industry is playing a crucial role in China's economy, as China is gradually changing from a producing to a consuming country," said Wang Xuanqing, deputy head of the Department of Foreign Trade with the Ministry of Commerce of the People's Republic of China.