Gome emerges from a wall of mud
Updated: 2010-10-01 07:50
By Hong Liang(HK Edition)
| | | | | | | | | |
| --- | --- | --- | --- | --- | --- | --- | --- | --- |
|   | | Print | | Mail | | Large Medium  Small | 分享按钮 | 0 |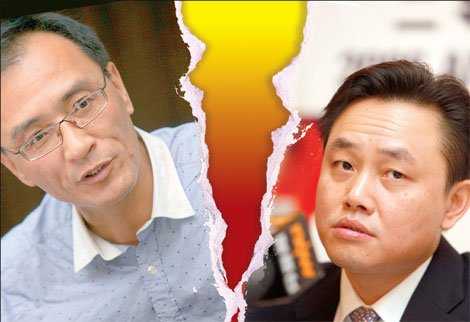 Left: Chen Xiao, chairman of Gome Electrical Appliances Holding Ltd. Jerome Favre / Bloomberg News Right: Huang Guangyu, jailed ex-chairman and founder of Gome Electrical Appliance Holdings Ltd. Timothy O'Rourke / Bloomberg News
In History classes, we learned to ask the question "what if?" Shareholders of Gome must have asked the same question when they voted to block jailed billionaire Huang Guangyu's bid to regain control of the company.
Gome's shares rose more than 6 percent on Tuesday when it became clear that Huang's attempt to remove Chen Xiao, the incumbent chairman, along with his management team is likely to fail. What if Huang had succeeded?
One thing was certain: the company would have been remotely controlled by a convicted felon behind bars, with his sister Huang Yanhong, acting as his proxy. Huang has made known that she would have been chosen by her brother to replace Chen. If that had happened, there would have been chaos, as Huang Guangyu's surrogates undertook to dismantle Chen's management team and revert to the direction that the company was heading under Chen in the past couple of years.
In the months prior to Tuesday's shareholders' meeting in Hong Kong, there had been a daily avalanche of reports and commentaries in print and on the Internet lending moral support to Huang, picturing him as a victim betrayed by his trusted lieutenants. It was obvious that many commentators were trying to garner public sympathy for Huang by accusing Chen of double-crossing his former boss and selling control of the company to foreign investors to secure his own position.
Chen openly scoffed at such accusations.
Huang was quoted by his many supporters as saying that his bid to regain control of the company he founded was made in the interest of all shareholders. But the fact that Huang was convicted of share trading irregularities, among other things, obviously had not gone unnoticed by the shareholders who voted against him on Tuesday.
Huang was said to have objected vigorously to Chen's arrangement that enabled a foreign investor to gain a sizable minority stake in the company. More importantly, Huang had expressed his strong objection to Chen's business strategy of downsizing the company's store network to boost profitability.
The downsizing strategy was imposed on Gome's management by the credit crunch after Huang's arrest, which caused widespread concern about his company's future. Gome's management headed by Chen, in the absence of Huang, had moved quickly to regain the confidence of bankers and suppliers by lopping off underperforming stores to save cost and maintain profit growth.
The arguments put forward by many Huang supporters sounded hyperbolic and disingenuous. Those supporters made a big issue of the capital injection by a foreign investor, labeling the transaction as unpatriotic. These drum beaters in Huang's camp had largely avoided challenging directly the new management's business strategy. Instead, they launched a barrage of personal attacks on Chen, calling him a traitor and worse.
If their dirty tricks and mudslinging had worked in unseating Gome's management at Tuesday's meeting, it would have tarred mainland private sector corporations with the same brush in the minds of foreign investors. The Gome fiasco has shown that there is much to learn about corporate governance by mainland entrepreneurs and there is even more to learn about business reporting by the mainland media.
It is reported that the defeat at Tuesday's meeting isn't the end of the matter. It will not stop Huang in his bid to regain control of Gome. Watch for the sequel but don't hold your hopes too high for anything new. In fact, the mudslinging by Huang's supporters has just begun in earnest.
The author is a staff writer.
(HK Edition 10/01/2010 page4)