1. Growth in religious tourism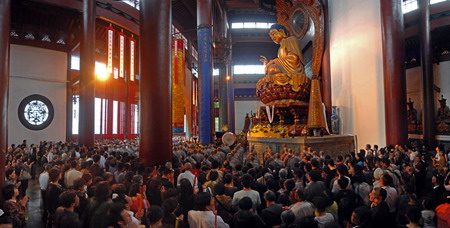 Visitors and Buddhists make pilgrimages to Lingyin Temple in Hangzhou, Zhejiang province on May 2, 2009. [Photo / China Daily]
A growing interest in religion among the Chinese people has boosted the country's fledging religion-related tourism market. The rising number of tourists – or shall we call them pilgrims - at religious places such as the Shaolin Temple, known as the birthplace of Chinese kungfu, is giving more people a chance to learn about religion.
Of 130,000 religious sites on the Chinese mainland, many have been turned into tourist attractions. Driven by profits and media exposure, local governments have begun major campaigns to build or renovate temples and market them nationwide. [Full story]
Related readings:


 Chengdu sets up tourism operation center in HK


 Zhouzhuang wins 'China Outstanding Tourism Website 2010' 

 Dalian to build coastal tourism belt


 Tangshan Bay mega tourism project to open next year
2. Thriving pet care industry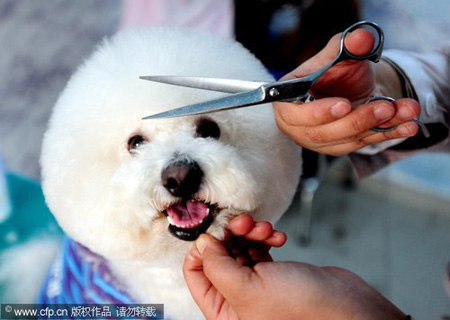 A pet pooch gets a hair-cut at a pet shop in Shenyang, northeast China's Liaoning province on Jan 18, 2010. Pet owners now like spending more money on their furry friends' looks, such as buying them coats, socks and glasses. [Photo / CFP]


Raising a pet has become a new popular hobby for many Chinese. From pet shampoo, treats and snacks to chic T-shirts and plush toys designed for pets, it's estimated there are 5,000 categories of pet products available on the Chinese pet market. [Full story]

Related readings:


 Animal lovers try to claw a place for their pets


 Pets live in the lap of luxury


 Pets get fashioned up


 Pet fair targets big-time buyers

3. Group-purchase websites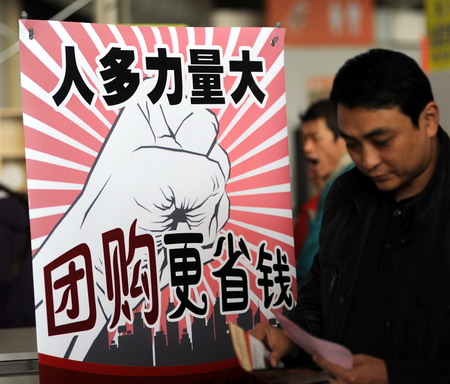 An advertising poster states "Group purchases cost less" at a sourcing fair in Weifang, Shandong province. The annual volume of online group buying is estimated to have hit 30 million yuan in big cities. [Photo / China Daily]
Tuangou (groupon) are group-purchasing websites that offer discounts for products, services and meals. They are currently all the rage because the discounts are sometimes significant when a lot of people signup for a deal.
The first group-purchase website in Beijing was set up in March, and the new phenomenon has caught on. China had over 1,215 group-buying sites as of August.[Full story]
Related readings:


 Cashing in on group discounts has hidden costs


Complaints piling up about group purchase websites 


 Most group purchase websites fail to get credit certificates


 Group purchase sites enjoy golden holiday

4. Wildlife hunting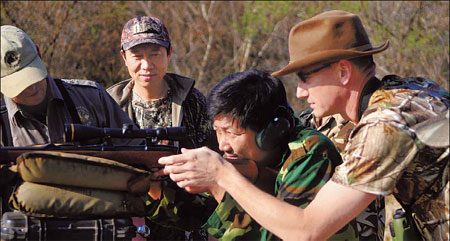 A Chinese hunter undergoing rifle-training in South Africa. International hunting clubs have found it is a lucrative business arranging for Chinese hunters to visit the world's finest hunting destinations, where they can each spend hundreds of thousands of yuan. Organizers say the money from hunting is ploughed back into the environment and wildlife to maintain its viability. [Photo / China Daily]
Despite concerns about animal abuse, wildlife hunting has become popular among the wealthiest in China. There are about 200 hunting clubs across China, and the average price for one hunting trip is around 1,000 yuan. Some wealthy Chinese people choose to go overseas on safaris, and the most popular destinations include North America, South Africa and Australia. One hunting trip to South Africa can cost a minimum of 100,000 yuan. [Full story]
Related readings:


 Zeroing in on a new form of vacation

5. Diving clubs gain popularity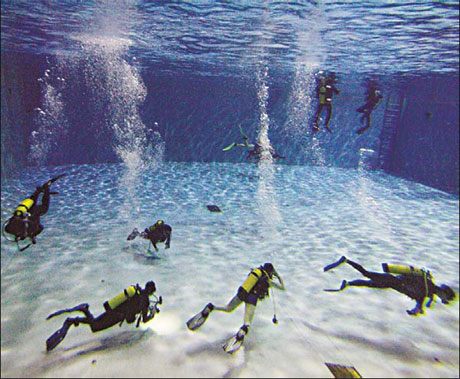 People enjoying a dive in a seven-meter pool. It costs 400 yuan per dive and more than 4,000 yuan for a diving course that includes 21 one-hour classes. [Photo / China Foto Press]




The wondrous sights beneath the waves is very fascinating, so it is perhaps not a surprise that the country is spawning more wannabe divers, creating possibly the world's largest diving market within 10 years. Professional diving is expensive: a full set of equipment can cost at least 30,000 yuan.

 [Full story]

Related readings:
 

 Chinese divers splash out on courses
6. Plastic surgery for students
Two students take to the streets on Friday in Shijiazhuang, capital of Hebei province, trying to win a 150,000-yuan ($22,000) hospital fund for cosmetic surgery. [Photo / China Daily]  


Double eyelids, nose jobs and breast enlargements are what a growing number of Chinese college and high school students sought during their summer vacations this year. Up to 80 percent of Beijing's plastic surgery market in the summer consisted of high school seniors and college students hoping to improve their appearance and land better jobs. That proportion is expected to hit 90 percent in coming years. [Full story]

Related readings:


 Young graduates look to surgery for better jobs


 Even the young and beautiful go under the knife


 First job: cosmetic surgery

7. Bargains on demand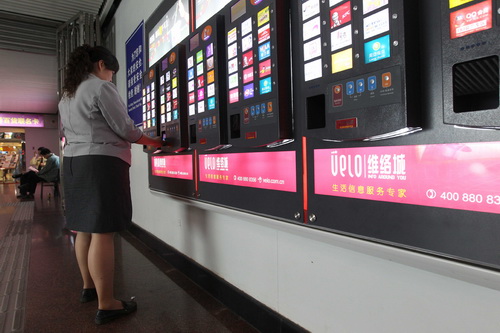 A Velo vending machine dispenses coupons to a woman at a subway station in Shanghai. Velo has more than 1,300 discount coupon vending machines in selected subway stations, shopping malls and supermarkets in Shanghai. [Photo / China Daily] 


Don't waste time clipping discount coupons from community newspapers or flipping through the mail to find them. On-demand discount coupons are available from Velo vending machines installed in subway stations, shopping malls and supermarkets.

The "Velo" card, the size of a matchbox, though much thinner, enables clients to retrieve discount coupons from Velo vending machines. Velo has more than 1,300 machines in Shanghai. Since 2009, the company has expanded its coverage to Beijing and Nanjing, increasing the total number of machines to 2,000. [Full story]

Related readings:


 Chinese college students choose a 'low-cost' life
8. Luxury furniture: the next status symbol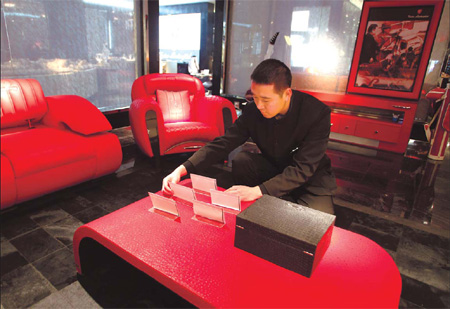 A man places price tags for a sofa set that is designed to match the interior of a Lamborghini. [Photo / China Daily]


As Gucci, LV, Chanel and other top brands continue to captivate Chinese consumers, designer furniture is set to become the next status symbol of China's super rich. A complete bedroom set designed by Paolo Gucci, one of the world's more prominent names in the high fashion industry, costs 505,778 yuan, including bedside lamps, nightstands and a couch. As furniture luxury brands enter the Chinese market, high-end furniture brands may become more in demand by China's wealthy. [Full story]

Related readings:


 West rushes to adopt Chinese-style furniture


 Rare Chinese Antique Wooden Furniture

9. Second-hand luxury no barrier to success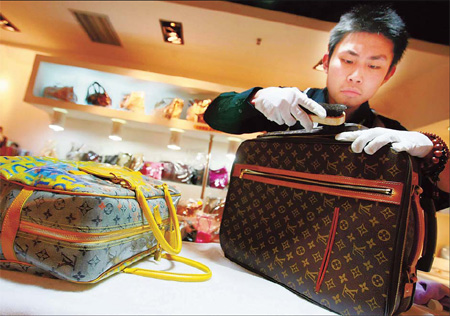 A worker conducts maintenance on an LV bag at Rain-Wow Consignment Store. [Photo / Mirror Evening News]


Selling unwanted luxury goods is popular in countries like Britain, Italy and Switzerland, but it is a comparatively new idea in China. But when the old owners want to cast aside some of these items, a market emerges, getting a better return for sellers than pawnshops. [Full story]

Related readings:


 Luxury homes may rise 15% in Beijing, Shanghai


 Montblanc rides on luxury demand


 Cost of luxury still too high


 Luxury brands wrest back China market

10. Installment payments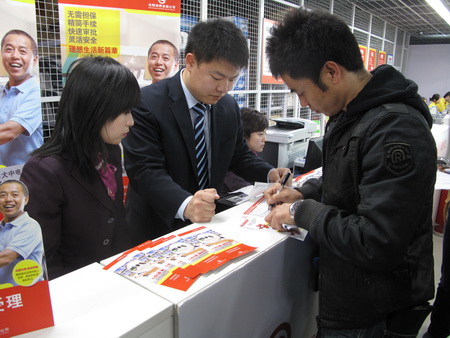 Zhang Hongqi fills in forms to become the first consumer of the city's first consumer financing company. [Photo / China Daily]


With the launch of consumer finance companies, customers now can pay in installments for durable goods, including home appliances, mobile phones, computers and furniture, and also for education, home decoration, weddings and travel. Getting an installment loan through a consumer finance company is generally simpler and faster than getting a loan from a bank. Consumer finance companies do not need guarantees and security, and do not provide home mortgages and auto loans. [Full story]

Related readings:


 Consumer finance gaining popularity


 First consumer finance company may struggle to attract interest


 China opens two consumer finance companies