Editor's note:
"Low-carbon" has now moved from a concept to become a lifestyle.
With their unconstrained ideas, some designers presented a great number of creative "green" gadgets for our daily use.
Here we've selected some impressive designs from the year 2010, and hope they will enlighten you on the way to trimming your carbon footprint.
Click for more "top ten" topics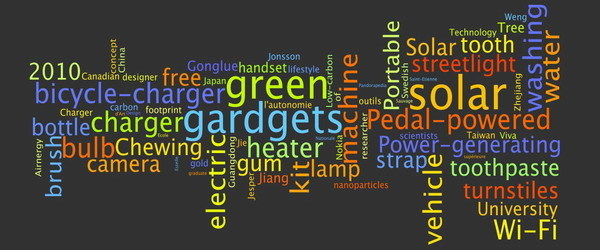 Green vehicles
Green vehicles have become more appealing to governments and automakers concerned over the environmental impact of the petroleum-based transportation infrastructure, along with the specter of "peak oil."
Though some are still concept models, there are already mass-produced EVs and hybrid cars on the road. [
Full story
]
Related readings:


 2010 Beijing Auto Show


 New-energy car strategy proposed


 China's annual output of electric vehicles to hit 1m by 2020
Nokia's bicycle-charger kit
Want to talk more? Keep pedaling, says Nokia.
The world's largest mobile phone maker on Thursday launched four low-priced handsets and a recharger that can be connected to a bicycle, and charges when the wheels turn. [Full story]
Related readings:


 ZTE, Kenyan firm launch solar-charged mobile phone

Bulb water heater
The kettle by Ecole Nationale graduate Estelle Sauvage uses a light bulb to heat water for a cup of tea.
It works with the heat of an incandescent light bulb of 100 watts, the sale of which has been banned since September 2009 (in France).
This project is a kind of tribute to the death of the bulb. [Full story]
Related readings:


 China doubles energy-efficient light bulb subsidy


 Green light bulbs 'may pollute water'


 China-wide green lighting initiative green-lit by UN
Wifi charger
The Airnergy Charger is a device that harvests wifi signals and converts them into usable electric energy! If you think that is unbelievable, well, just have faith.
It charges itself and also can charge cellphones and other gadgets in no time when it detects wi-fi hotspots. [Full story]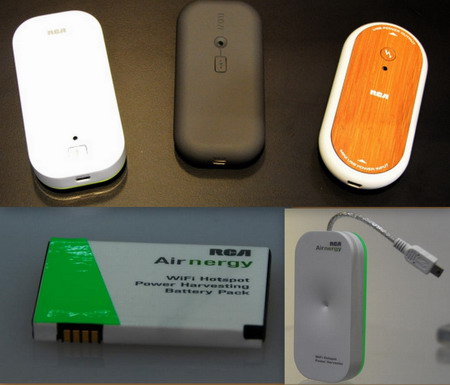 Related readings:


 Cutting off the power cables


 Mobile users could soon say goodbye to charger trouble


 EU to have universal mobile charger
Portable solar lamp
The lamp designed by Swedish designer Jesper Jonsson offers portable illumination solutions by combining photovoltaics with lighting.
It is charged during the day through solar power to provide energy to light the lamp when it gets dark.
To light the lamp, you unfold the shade through a twisting motion.
It will let us continue social activities outside when it gets dark. [Full story]
Related readings:


 Remote villages see light with solar


 Grids pushed to tap clean power


 Green products join fight against climate change 
"Green Seeds" chewing gum bottle
Bottled chewing gum is becoming more popular than the traditional paper-packaged one. Convenient as it is, though, sometimes you may find it fussy to dispose of the residue without paper at hand.
The chewing gum bottle designed by Jiang Gonglue, a student from Zhejiang University, helps people store chewed gum with sticky paper settled at the bottom of the bottle and throw it away later. [Full story]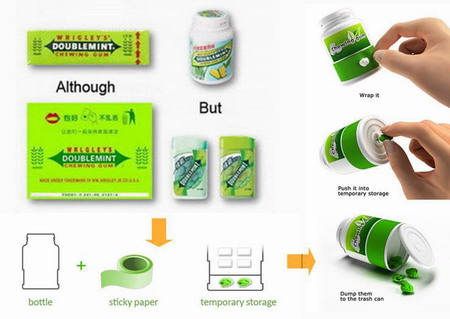 Power-generating turnstiles
Conceived by Viva Design Team of Guangdong University of Technology, the Green Pass turnstile at subway entrances produces electricity whenever someone passes through.
The energy is used to power the card readers, coin counters and other electronic services.
Thus they will need no external power supply, reducing their power consumption.[Full story]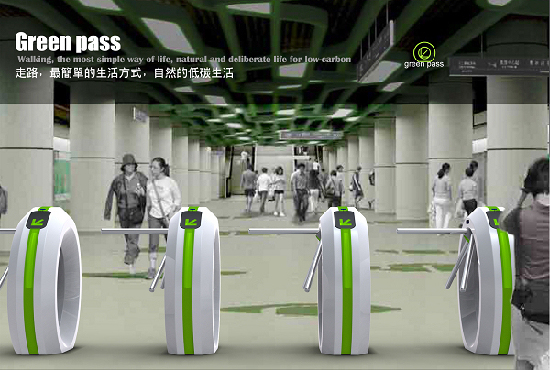 Related readings:


Green transportation in China


Not everyone pays 'fare' share on Shanghai subway


Subway security checks to stay until end of year
Treelight
A group of scientists from Taiwan has discovered a way to potentially add more trees to the urban landscape while reducing the number of street lights.
And the secret is gold.
By injecting gold nanoparticles into the leaves of plants, the scientists were able to affect the chlorophyll inside the plant's leaves, which resulted in a blue-violet fluorescence, bringing a touch of Avatar to the city. [Full story]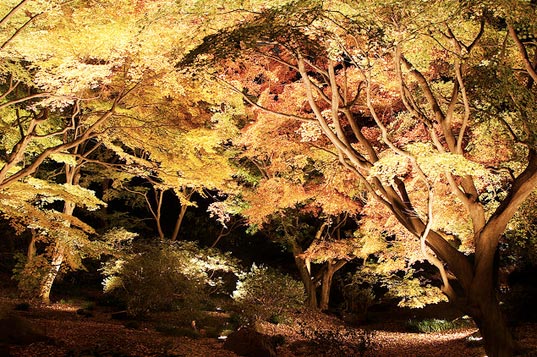 [Photo / flickr.com/photos/mrhayata]
Solar camera strap
Most photographers use a sturdy camera strap while clicking pictures, and here's an idea from designer Weng Jie that may capitalize on it.
This is done by making the strap solar-savvy! Adding thin solar films across the width of the strap, it enables you to harness solar energy when out in the field. [Full story]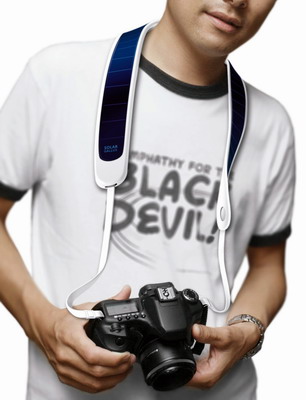 Solar camera strap designed by Weng Jie [Photo / yankodesign.com]
Related readings:


 Canon bets on China clicking


 Canon focusing on young lives


 Girl records life with camera
Pedal-powered washing machine
The pedal-powered washing machine is aimed at saving time, labor and fossil fuels by washing clothes without a generator.
The open resource project, called "les outils des l'autonomie" (the tools of autonomy), provides instructions on how to build your own manually powered washing machine - washer x bike - using recycled components. [Full story]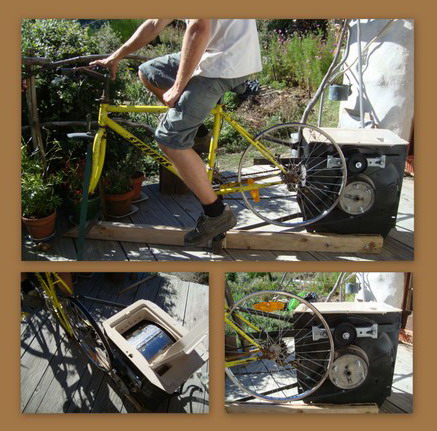 Related readings:


Water, washing machines and climate change


Whirlpool goes rural

Fancy dog washing machine a cheap plastic tub