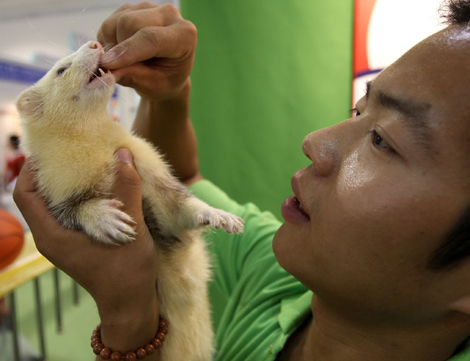 An exhibitor feeds a pet at the Pet Fair Asia in Shanghai on Thursday. The exhibition will close on Sunday. Gao Erqiang / China Daily 
SHANGHAI - Biscuits with beef provide energy, while adding wheat and bananas into the concoction helps in lose the extra pounds and keeping a healthy balance. These tips are important for you, if you are a dog owner who loves your pet unconditionally.
Rapid economic development has greatly reshaped Chinese lifestyles, and raising a pet has become a new popular hobby for many Chinese.

NBS chief says to make data more credible
More stories:


 Should tax be imposed on pet owners? 


 Pet waste removal worker finds $58 in dog poop


 Canine neutering project is kindest cut for pet owners


 Pet fair targets big-time buyers
One out of 15 Chinese people owns a pet, with an average pet costing 500 yuan ($74) per month, according to Zheng Qiwei, a pet business owner.
He started his pet business in 1997. Today he is the general manager of Shenzhen Libangda Industry Co Ltd, which produces its own pet product under the Choi Inn brand.
"There is great potential in the domestic pet market because pet owners in China pay increasing attention to their new family members," Zheng told China Daily.
Zheng's pet business includes pet shampoo, treats and snacks. These are readily available at supermarkets including Carrefour and Wal-Mart.
"In 1996, pet owners have no idea what a cat or a dog should eat, and many of them were fed with leftovers. However, about five years ago, significant changes took place," Zheng added.
Such development has created a new segment for businesses. These days it's not surprising to find chic T-shirts or vibrating plush toys designed to pamper pets.
"You will find various professional services for pets such as catering, clothing, entertainment, pet-sitting, and transportation," said Zheng.
It's estimated that there are 5,000 categories of pet products available on the Chinese pet market.
However, the pet market faces hurdles. Traditionally, the Chinese treat dogs as doorkeepers that don't deserve attentive care.
Miles Leung, managing director of Wenzhou-based Pingyang Kongying Pet Products Co Ltd, said less than 30 percent of household animals in China are treated as a real pet.
"It takes time for pet owners to get used to the idea that a pet is a real friend and is part of the family. It is a life, not a trivial thing you can freely abandon," said Leung.
Leung said that in China, the average spending on pets is merely 10 percent of that in developed nations.
He believed China's low consumption of pet products is a result of low incomes. Yet he is optimistic about the future of the industry.
"In the next five years, the income of many Chinese is expected to grow five-fold, which will mean more people will have the ability to raise pets," said Leung.
In the latest Pet Fair held in Shanghai which started on Thursday, Tony Lee, a pet owner from Taiwan, showcased his Bengal cat. The five-and-a-half-month-old cost Lee 200,000 yuan.
"The cat is not for sale," said Tony Lee. He started raising pets 26 years ago, and every year Lee has attended the Pet Fair, one of the largest pet events in Asia, since 1997.
"I've witnessed a great change in the mainland pet market," he said.