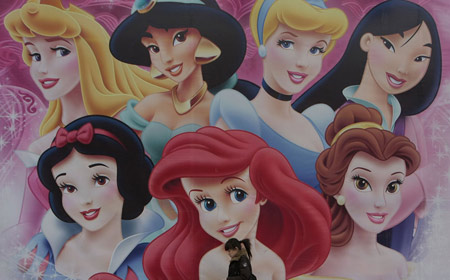 A woman walks past a billboard depicting Disney's classic cartoon characters in Nanjing, Jiangsu province. [China Daily]
SHANGHAI - Encouraged by the box office success of Kungfu Panda in China, Walt Disney is fast forwarding to go native with its entire line of business.
This effort is being spearheaded by Stanley Cheung, executive vice-president and managing director of the Walt Disney Co's Greater China division. With 18 years of experience in developing the Chinese market for various multinationals including Pepsi Cola and Procter & Gamble, Cheung is believed to be the man to make Shanghai Disney a reality.
At a media briefing in Shanghai on Thursday, Cheung said that his main business thrust was to "lift our customers' entertainment experience by blending Disney's quality standards and technology with Chinese cultural elements".
Cheung's team started the localization campaign in China by building strong cooperation with local partners in movie production, book publishing, franchise stores and English- language schools. In addition, the US entertainment giant has reached an agreement with Shanghai Media Group to create a show based on the popular US TV show, the Amazing Race.
The Amazing Race is a reality television game show in which teams of two people who have some form of a pre-existing personal relationship, race around the world in competition with other teams.
The company plans to release the movie High-school Musical, which is a joint production with film producer Huayi Bros Media Group and Shanghai Media Group, featuring an all Chinese cast this summer.
Separately, Monkey King, a blockbuster cartoon movie produced by China Central Television, CCTV, is being aired on Disney's Asia-Pacific channel. This movie is based on the classic Chinese novel Journey to the West.
An earlier production with Huayi, The Secret of the Magic Gourd, which was adapted from a novel by a Chinese author, grossed 21.70 million yuan in 2007 and won several Chinese movie awards.
Related readings:

 Shanghai Disney to get approved land in July


 Walt Disney joins sponsorship of USA Pavilion


 Disney president vows to increase cooperation with China


 Disney effect to wash over Expo
Some 14 percent of Disney's total revenue comes from its international operations, which amounted to $9.73 billion in the first quarter of 2010. "China is becoming an increasingly important market for us and we will be looking for more opportunities to cooperate with our Chinese partners in the future," said Cheung.
Since returning to the Chinese market in the 1980s, Disney has made significant inroads into retail and education, especially in Shanghai.
The Shanghai provincial government approved construction of the 25 billion yuan ($3.66 billion) theme park in Pudong. The project is expected to be complete in 2014.