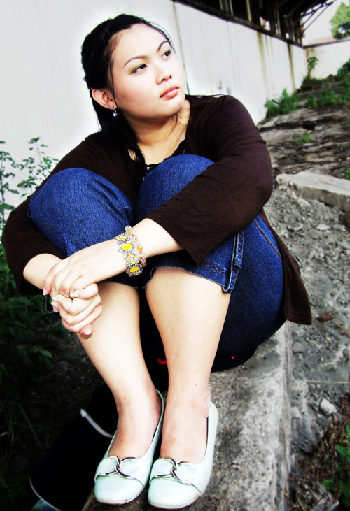 Zeng Jing was dubbed "Forum Beauty" on a site for overweight girls. [FILE PHOTO] 
BEIJING - In the award-winning American film Precious, the title character dreams of receiving the red-carpet treatment.
Yet her excessive weight effectively rules it out.
Thousands of miles from Hollywood, a young Chinese woman named Zeng Jing is realizing Precious' dream by posing in front of the camera - and pictures of the overweight girl modeling large-size garments for her clothing store have brought her rave reviews.
"I think someone needs to stand out and demonstrate our beauty because it's not easy to be appreciated by society," said Zeng, "And I think I can be the one."
In 2008, a story about Zeng vying to become a model, together with a series of offbeat photos of her, including one half naked, were published in a Nanjing newspaper and its affiliated website.
The photos received tens of thousands of hits and comments that day and were linked by numerous portals.
"I think she is amazingly beautiful," commented one of the netizens, "It seems a bit unfair that overweight girls have long been excluded from the notion of beauty."
Related readings:


 Do overweight women skip sex? Fat chance!


 Being overweight can cut women's life expectancy


 Battle of overweight a global issue: poll


 After-school exercise helps overweight girls
In a country where the average weight for a girl is 60 kg, Zeng Jing weighs 110 kg, subverting the stereotypical view about models being tall and slim.
Zeng's blog is admired by many women who are also overweight. They praise her courage for being a model, because they usually consider themselves "too weird to be exposed to the lens."
Photographer Huang Hao was impressed by Zeng's outgoing and optimistic character.
"Confidence is what I wanted to demonstrate most through the photos," said Huang. "It is not very common for a girl to maintain such a weight and such a sunny disposition at the same time."
Born at a regular 3.5 kg, she soared to 110 kg at age 16 and most of her schoolmates took her for a geek.
Nicknames were common for Zeng. "Titanic" was one she remembers most clearly.
Living with sneers and stares all through puberty, it was in the virtual world that Zeng was hailed as a "beauty" for the first time in her life.
She was working in a clothing store for overweight girls in Guangzhou in 2005 when she came across the Internet forum "Girls Happy Being Fat", where most of the members were girls weighing over 70 kg. Zeng initially posted photos of herself wearing clothes from the store, simply as a promotion.
To her surprise, the photos won her top billing as "Forum Beauty". She was thrilled to be appreciated by strangers for the first time in her life.
Instead of promoting clothes, Zeng made a handful of good friends in the forum who shared a lot of similarities besides weight. Most hated going out alone and preferred to stay holed up at home to avoid sneers from their peers.
Soon they moved from the virtual world to hanging out together in real life.
"I enjoy dressing up and I teach them how to match clothes and wear makeup. It feels great as you're no longer the only fat one in the crowd," Zeng says.
Established in 2005, the forum connects 30,000 members around the country.
With their personal charm, they also caught the media's attention in 2006 when Zeng and three of her friends, the lightest 65 kg, debuted on A Date with Luyu, one of the most popular talk shows in the country, hosted by Chen Luyu.
For Zeng, this was just the start of her life in the spotlight.
In 2008, an entertainment company in Nanjing signed her up, thinking her sunny character would be valuable in the entertainment industry. Later that year, Zeng appeared in several more talk shows, gaining nationwide fame.
Nevertheless, one of her main problems still remains unsolved: landing a stable job.
She can't remember how many times she was turned down before getting her first job as a salesgirl. What does remain clear is hearing "We don't have room for someone as big as you" from employers.
This experience is shared by many overweight girls. Some of Zeng's friends work for stores selling big size clothes, but generally they still rely on their parents.
"Job hunting is our biggest headache," said Zeng, "Because more likely than not, it's not about how we think of ourselves. It's about how society thinks of us."
She now owns an online store selling clothes designed for overweight girls and continues modeling every piece in her store.
Though seldom bothered by her weight, the difficulty in finding jobs has led her to consider undergoing liposuction.
"I'd have the operation just for the hope of a better job, something different from a salesgirl or an online store owner," she said.
She has set a target of 80 kg. That was her weight in 2006, and both she and her husband love the way she looked at that time.
Zeng and her husband Lai Yongqiang, 70 kg, got engaged last year. Their wedding ceremony included eight newlywed couples, and all eight brides were at least 75 kg.
"I'm hoping for a job with a good income after the operation," said Zeng Jing, "My biggest wish is to own a large garment company, and provide jobs to overweight girls like me."