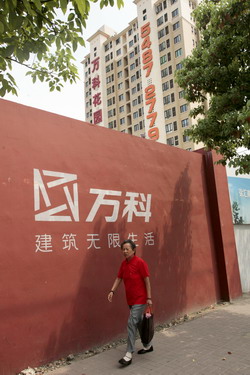 A woman walks past a sign for property developer China Vanke Co in Shanghai. [Agencies]

Firms keen to offer new projects before possible tightening measures
SHANGHAI - A total of 62 new property projects will start pre-sale in Shanghai in April, up 63 percent from March. Analysts said the significant growth resulted from the developer's fears over tightening policies that may be introduced if prices remain too high.
"As of this Tuesday, 62 new projects are expected to be released by the end of April, and 15 of them have already started pre-sale," said Xue Jianxiong, an analyst with Nasdaq-listed China Real Estate Information Corp (CRIC).
The momentum started in late March, when 619,000 square meters of new housing was made available from March 20 to 27, accounting for 88.5 percent of the total in the month.
"Usually, the best season for property sales is May and June, and in each peak season, the new projects released won't exceed 40," said Xue.
"The last four days of March saw average sales of more than 1,000 every day, marking the beginning of the new sales season, which will last throughout April and May," said Ma Ji, a consulting manager with Centaline Property Agency Ltd in Shanghai.
"However, if the price stays at a high rate, the trade volume will not be able to pick up. In such circumstances, further tightening policies from the central government are inevitable," Ma said.
Related readings:


 Real estate market 'overheating'


 Chinese property brokerage eyes new market


 Demand for new properties outstrips supply at home fair


 China real estate bazaar drowns out govt warnings
As the host city of the World Expo, the authorities in Shanghai have required all construction sites to suspend work within an area of 25 sq km of the Expo.
But analysts said the recent explosive growth in the number of projects recently released has little to do with the restriction.
"Only a limited amount of residential projects are included in the 25 sq km area, and most of these are luxury housing. Actually, developers have made good preparations to cope with the new regulation," said Michael Klibaner, head of research at Jones Lang LaSalle (JLL) Shanghai.
Just 1.72 million sq m of property was traded in the first quarter, down 64.2 percent from the last quarter of 2009, and a drop of 38.7 percent from a year earlier. In contrast, house prices showed no signs of weakening, and the average property price in the first quarter reached 20,819 yuan ($3,049.96) per sq m between January and March, up 59.9 percent year-on-year, statistics from CRIC show.
"Sellers are optimistic about the robust outlook for the housing market, and they are reluctant to lower prices or make discounts," said the latest report from JLL.
Analysts expect that April will see a sales peak in the housing market, and the turning point for prices may come in the third quarter as a result of stricter regulations in the sector.