Chilly weather in north to continue through April, meteorologists say
HARBIN - There seems to be no respite in sight from the unusually long winter that has left North China desperate for spring this year.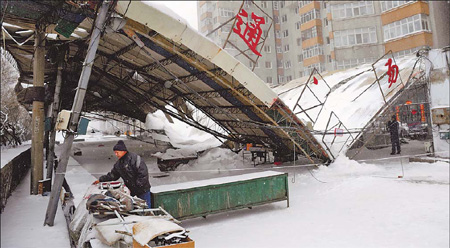 The roof of a market in Harbin, Heilongjiang province, collapses on Tuesday as a result of a snowstorm that continued in the city for three days. [Xinhua]
The National Meteorological Center (NMC) on Tuesday warned that the cold spell in the northern part of the country will continue through April, with temperatures dropping up to 10 C in some places on Wednesday.
From November 2009 to March, the average temperature in Beijing, Tianjin and Hebei province has been the lowest since 1971, while the temperature in Northeast China's Heilongjiang, Jilin and Liaoning provinces has hit the third lowest since that year, according to the National Climate Center.
Related readings:


 April snow falls in Liaoning


 Spring snow in Lhasa


 Snow, sandstorm wreak havoc in Xinjiang


 Spring snow blankets North China

Qiao Lin, a forecaster at the NMC, said the "overlaying of two cold fronts, one from Siberia and the other from the Mongolian plateau, has caused the dramatic temperature drop and delayed spring".
On Monday afternoon, an unseasonable snowstorm struck Heilongjiang and Jilin provinces, throwing life in disarray.
Harbin, the capital of Heilongjiang, was hit by the biggest snowstorm of the year on Tuesday, causing major traffic jams and flight delays. Several schools were also closed due to the weather.
Meteorological authorities in Harbin issued the first snowstorm red alert of this year early Tuesday morning, saying the snow will continue with precipitation of 15 millimeters over six hours.
Yuan Meiying, chief weather forecaster with the provincial meteorological station, said the snowstorm had hit 17 counties and cities in the province.
Harbin was among the worst hit, with 28 millimeters of precipitation falling from 8 am Monday to 8 am Tuesday.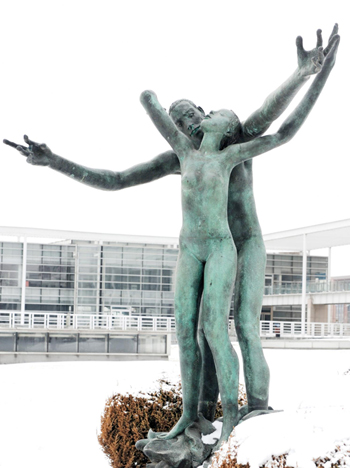 A sculpture by Chinese artist Wei Xiaoming is seen on a snow field in Changchun, Northeast China's Jilin province, April 13, 2010. [Photo/Xinhua]
"I've been in Harbin for more than 60 years and this is the first time I have seen such a blizzard in April," said 70-year-old resident Wang Jiufeng. "You just can't go outside in such weather."
The city education bureau issued an urgent notice on Tuesday ordering the closure of primary and middle schools on Wednesday. However, many schools in Harbin voluntarily remained closed on Tuesday.
The Taiping International Airport in Harbin has been closed since 5:30 pm on Monday, stranding more than 1,500 passengers, according to Li Feng, spokesman with the airport's command and rescue center.
He said 23 flights have been canceled and another 53 were delayed by noon on Tuesday.
In Changchun, the capital of Jilin, the streets became slippery due to ice, slowing down traffic.
A local resident, surnamed Wang, said it took him 30 minutes to drive to work on Tuesday, 25 minutes more than it usually takes.
The heating supply in Changchun was stopped last Sunday, forcing residents to wear several layers indoors.
Experts said the snowstorm could cause damage to local agriculture, as most vegetables there are cultivated in greenhouses and the accumulated snow will block the sunshine and reduce the temperature inside the greenhouses.
The cold front is also bringing frost and is expected to delay the growth of wheat crops in Anhui, Jiangsu and Gansu provinces.
Li An'na and Qiu Bo contributed to the story
China Daily