When Wang Zhongjun was a part-time pizza delivery boy in the United States, he prided himself on being the fastest and the best. Twenty years later, he is a major movie mogul and his determination to shine has not waned one bit.
The 49-year-old and younger brother Wang Zhonglei started Huayi Brothers, a Beijing-based media corporation, in 1994.
They will take their next step on the road to success by becoming the first film company listed on a mainland stock exchange.
The brothers aim to raise 1.2 billion yuan ($175 million) in the initial public offering on ChiNext, the mainland's first growth enterprise board attached to the Shenzhen Stock Exchange.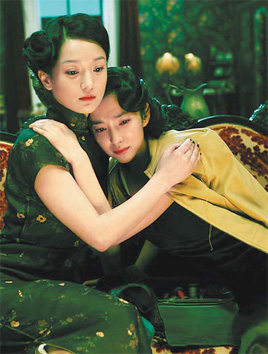 Li Bingbing, right, stars alongside Zhou Xun in The Message, the latest movie from Beijing-based film company, Huayi Brothers. [File photo]
Huayi Brothers will list 42 million shares at 28.58 yuan each, according to its IPO prospectus released on the company website.
The firm already boasts a star-studded line-up of shareholders, including A-list stars Li Bingbing and Huang Xiaoming, and the mainland's most successful director, Feng Xiaogang.
"Even my driver is a millionaire. He has been driving for me for many years and bought stock, too," said Wang Zhongjun in a recent interview.
Wang joined the army at 16. An avid painter, he dabbled with jobs as a designer and photographer before leaving for Michigan in the US in 1989 to study mass media communications.
He went on to earn a master's degree in New York, where he also held a part-time job with a pizzeria and saved as much money as he could.
He returned to Beijing in 1994 with $100,000 in his pocket, which he used to set up an advertising company. It was not long before he won his first big account, designing logos for the Bank of China.
The Wang brothers invested the cash in three films, Devils on the Doorstep, The Emperor and the Assassin and Sorry Baby, the latter marking that start of their 10-year relationship with director Feng.
Huayi Brothers' latest movie, The Message, which stars shareholders Li and Huang, has so far made 220 million yuan at the box office this year.
"Maybe the box office revenue grew quickly because all the stockholders went to see it," Wang joked.
Huayi Brothers pioneered product placement in film and cooperation with banks to fund pre-production investments. It has also received backing from various tycoons, including Hong Kong's Richard Li.
The firm has already expanded into television and music production, and talent management.
Wang's latest goal is to set up six theaters in two years, as well as release six films and produce 600 episodes of a TV series a year.
Related readings:


 China's NASDAQ launched Fri afternoon


 Scene is set for movie firm's big move


 Movie firm ready for NASDAQ-style board's IPO


 Rolling out red carpet
Wang the elder, who is company chairman, is known as "Big King" among his staff and concentrates on major strategy and communication with large stakeholders.
Wang the younger, or "Small King", is president and takes care of the day-to-day running of the business. The brothers are both proud self-promoters and can often be found on the covers of Chinese fashion and lifestyle magazines.
Among the initial 28 companies to be listed on ChiNext, Huayi Brothers is one of the few that are not technology and innovation-focused startups.
The enterprise's IPO follows hot on the heels of the Chinese government's recent encouragement for companies in the culture and entertainment industries to seek public funds to boost their size and competitiveness, as well as improve the quality of products for domestic consumption.