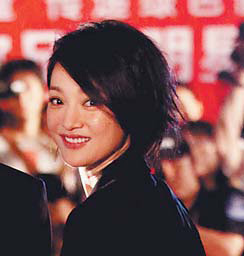 Actress Zhou Xun (pictured) is still the No 1 star in Huayi Brothers Media Group, the biggest privately owned media company in the Chinese mainland.
At the company's theme party last week, more than 80 stars walked the red carpet to share their understanding of environmental protection - this year's theme.
Zhou was the last to take the stage, accompanied by Wang Zhongjun, chairman of the company.
Zhou has won most of the important film awards in China and is recognized as one of the most talented and prolific actresses in the country. She also works as the ambassador of many green projects, including the United Nations Development Program (UNDP).
Feng Xiaogang, Huayi's top director, did not attend the party, as he is working on his new film The Tangshan Earthquake (Tangshan Dadizhen).
Wang Zhonglei, the company's president, said Feng was not leaving the company, describing the recent rumor that Hong Kong-based Emperor Group is offering Feng an annual pay of 100 million yuan ($14.7 million) a joke.