Huayi Brothers Media Group, the company with China's largest stable of major stars and top movie directors, is ready for action on the NASDAQ-style Growth Enterprise Board (GEB).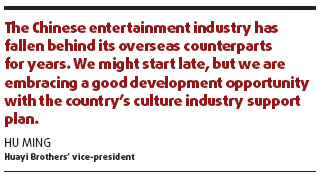 The company has obtained approval to be listed and will become the first Chinese Hollywood-style operation to go public on the mainland.
The average price-to-earnings (PE) ratio for the first 10 companies to be listed on the GEB is about 50. Industry experts said the company's issue price could be around 28.5 yuan ($4.2).
Analysts said its array of talent is likely to excite the imagination of the investment public and thrust the company into the limelight.
Names on the roster at Huayi Brothers Media Group include Huang Xiaoming, Luo Haiqiong, Li Bingbing, Ren Quan and Zhang Hanyu.
With the move, Huayi Brothers will be the first entertainment company listed on the A-share market.
Many of the firm's stars are also shareholders in the company.
According to the company's prospectus, top director Feng Xiaogang holds about 2.88 million shares, or 2.3 percent of the total current shares. Pop star Huang Xiaoming is also an owner, with 1.8 million shares.
Related readings:


 Huayi Brothers gets GEM IPO approval


 Huayi Brothers plans IPO in mailand or Hong Kong

 Festival attracts famous film maker


 Mainland film crews now eligible for TV dramas
Huayi Brothers' vice-president, Hu Ming, said the listing will help China's movie industry make up ground on foreign competitors.
"The Chinese entertainment industry has fallen behind its overseas counterparts for years," Hu said. "We might start late, but we are embracing a good development opportunity with the country's culture industry support plan."
Hu pointed out that six influential filmmakers in the US each have annual revenue in the tens of billions of dollars. By contrast, Huayi Brothers takes several hundred million yuan, suggesting lots of room for growth.
Huayi Brothers' revenue jumped 74 percent year-on-year to reach 409 million yuan in 2008. In the first half of 2009, the company recorded 31.63 million yuan in net profits.
Founded in 1994, Huayi Brothers was among the first filmmakers to make commercial movies in China. The company has produced several well-known works, including the war film Assembly and the romantic comedy If You Are The One.
According to its prospectus, Huayi Brothers plans to float 42 million A shares to raise 620 million yuan for movie and TV production, representing 25 percent of the enlarged capital stock.