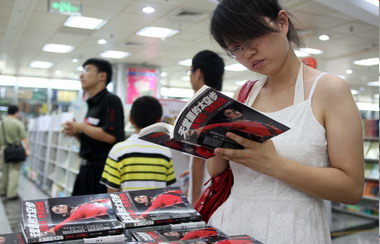 A reader browses a biography of Michael Jackson at the Xinhua Bookstore yesterday in Beijing. Books about the late star are appearing on bookshelves only a week after his death. [China Daily]
Surviving on a diet of coffee and cigarettes, two Chinese writers have written an "instant book" on Michael Jackson in just 48 hours.
The 130,000-word book, titled Moonwalk in Paradise - the Michael Jackson biography, written by Jiang Xiaoyu and Xing Han, and published by Chinese publishing house Xiandai was available for pre-order sales online on Friday and on bookshelves Saturday.
The writers, who were contacted within hours of Jackson's death, said they switched off their mobile phones and didn't sleep for two days while they wrote the book.
A report in China Youth Daily said the writers never met or interviewed Jackson and simply wrote the story from their "accumulated knowledge about the king of pop".
"Though it is hard to tell how big the market for instant books is in China, I am sure we have done a nice job on quickly responding to market needs," Zang Yongqing, general editor of Xiandai, told China Daily.
Jiang, who has written blogs and reviews about the pop icon, said he hoped his book would help Chinese fans find a better way to relieve their pain.
"I am not only a music critic but also a fan of the King of Pop, so I understand what fans really need," he said.
"The 'painkiller' could be a book I fought the deadline around the clock, as fans cannot wait for months," he said.
But Li Kun, a 26-year-old assistant in a Beijing-based public relations company, told China Daily that she would buy a classic biography, not an instant book. "It would be a kind of disrespect to my pop idol if I paid for a scrappy book of his legendary life which was finished in two days," she said.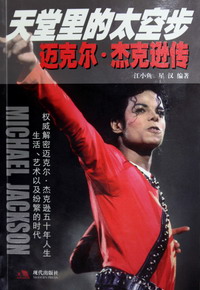 The cover of a biography.
Zhao Xin, a PhD student of literature at Beijing Normal University, said "authenticity and accuracy" should be the cornerstones of a biography.
"The writers might infringe on copyright if they never had the chance to interact with the subject," he said.
Jiang Zengpei, a Chinese publisher, said: "I am worried about the publishing industry in China, because many instant books have been fabricated with information from other books or the Internet.
"Publishing, an important part of the culture industry, should be creative work," the publisher said.
Related readings:


 Instant Michael Jackson books coming


 Editors scramble to get covers on Michael Jackson


 50 facts about Michael Jackson that made him a legend


 Jackson funeral set for Tuesday in downtown L.A.

Zang, of Xiandai, said Jackson had a big influence on many Chinese and that people would want to buy the book.
"It is enough to justify an 'instant book' written in only two days, isn't it?" he commented.
The owner of a bookshop near a train station in Beijing, who refused to be named, said: "I ordered 50 books, because I thought the best time for sales would be around his funeral.
Jackson's funeral will be held in Los Angeles Tuesday.
"But I now have second thoughts people might not buy the books without free albums," he said.
More than 10 Chinese publishing houses are also planning to launch instant books about Jackson.