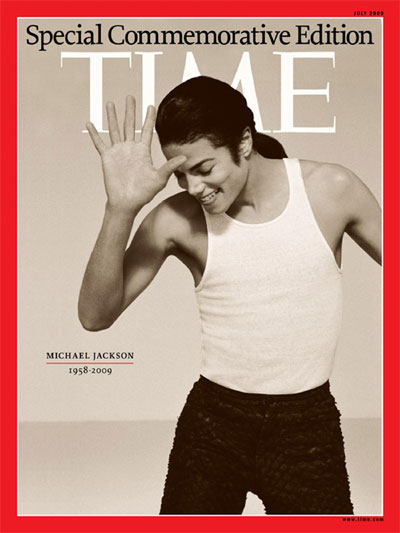 TIME Magazine's special commemorative issue on pop star Michael Jackson is shown here, released to Reuters on June 27, 2009. The June 29 special edition, featuring a photo of Michael Jackson by Herb Ritts, will be published in addition to TIME's regular weekly issue. Pop star Michael Jackson died on Thursday, June 25, 2009. [Agencies]
NEW YORK – After Michael Jackson's death last week, editors scrambled to turn the King of Pop into the king of magazine covers.
From Newsweek's shot of a young reflective Jackson to Herb Ritts' sexy T-shirt photo used for Time's special commemorative edition, the Gloved One was already on newsstands Monday morning. And more print celebrations were on the way from, among others, In Touch Weekly, Entertainment Weekly, Ebony, Billboard, Rolling Stone and OK!
Said Richard Stengel, Time's managing editor: "The decision to do the special edition was made at 11 p.m. Thursday," hours after the pop superstar's death. "Friday was always scheduled to be a regular work day, so the whole staff was working. It really was all-hands-on-deck.
"The art department sprang into action as did the photo department," Stengel said in an interview. "We came up with a plan for a table of contents and the architecture of the issue, and then assigned the stories. Once that happened, everybody got into motion. In a little over 24 hours, it was basically complete."
Time's 64-page edition — separate from its regular weekly issue that came out Friday — exhaustively covers Jackson's career. It was Time's first special edition since the 9/11 attacks.
The special opens with Jackson's death and then flashes back to his beginnings, starting with a section called Prodigy, followed by Superstar, Jacko, Legacy and finally Farewell, a single, full-page photograph of the man's fashion trademark, a sequined glove.
"We realized his life did fall into these chapters," Stengel explained. "There was the little Michael Jackson — the Jackson 5. There were the superstar years where he was the most famous, global celebrity and then the very weird, eccentric years. We thought that would be a great structure for the package — with that opening story about the news of his death and then a closing piece evaluating the music."
Newsweek took a a different approach, incorporating Jackson's death into a regularly scheduled issue. But the magazine, a double issue for the weeks of July 6 and 13, has two different covers — with the Jackson cover available on newsstands and subscribers receiving an issue celebrating "What to read now — 50 books that make sense of our times." Number one on the list: "The Way We Live Now," Anthony Trollope's satiric dissection of Victorian financial and moral tribulations, first published in 1875.
"We try to do a 'hard' close of the magazine on Friday evening, but we can go into the magazine on Saturday if we need to up until about 2 p.m. and it prints later that evening," Daniel Klaidman, Newsweek's managing editor, said.