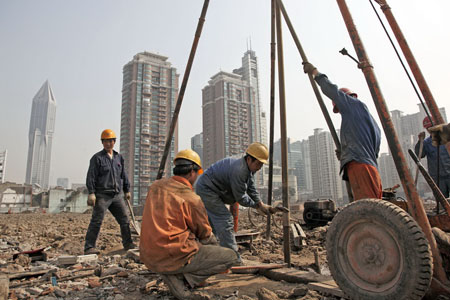 Workers at an old neighborhood slated for new residential development in Shanghai. Global real estate spending on office buildings, stores and apartments may fall another 5.3 percent this year to $412 billion, according to property broker Cushman & Wakefield Inc. China residential sales increased in the first four months of 2009.[Bloomberg News]
Zhang Qiang, a 29-year-old company executive, was extremely frustrated recently with his plans to buy a home - after saving up the 250,000 yuan down payment for the pre-owned property, the seller suddenly increased the price by 50,000 yuan.
The owner is betting property prices will rise further after the market showed a strong rebound in the first quarter.
"Such things happened in 2007 when the property sector was sizzling and prices went insanely high," said Zhang. "I can hardly believe that the market has turned irrational again, even in such difficult times."
According to DTZ, an international real estate consulting company, total floor space of new homes sold nationwide increased 18.6 percent year-on-year to 162 million sq m in the first four months this year, which was also 21.2 percent above the year-on-year average of 2006 to 2008. Some 59 million sq m was sold in April, up 3.8 percent over March.
Analysts say the strong rebound was triggered by the government's favorable policies on interest rates and taxation, and pent-up demand from 2008.
Statistics from the National Development and Reform Commission show that property prices in China's 70 largest cities climbed 0.4 percent in April, 0.2 percentage higher than the previous month.
A number of developers have increased the unit price at their projects, with some even setting the price 20 percent or more higher. A project near Beijing's eastern fourth ring road increased its price by 5,200 yuan per sq m, or 33 percent.
Related readings:


 Beijing new home sales dip in May


 April second-hand home sales rise


 Existing home sales, prices drop at record pace


 Home sales on the rise, prices on the wane
Experts said the performance of the property market in the next half year largely depends on whether developers react to the recent resurgence in activity by rapidly increasing prices or by maintaining their current prices.
Grant Ji, director of Savills Beijing, said ongoing sale of existing inventory has contributed to more "reasonable" prices after the market adjustment last year, but attempts to raise prices could stall resurgent sales.
"As the economic fundamentals have not seen any big change at home and abroad, any big price hike will kill the rebound," said Ji. "Property prices will probably stabilize in the middle two quarters, and the real recovery may come in the fourth quarter."
Li Wenjie, general manager of Centaline China's North China branch, said property prices will probably drop again due to continued huge inventory pressure.
According to statistics from Savills, a UK-headquartered real estate service provider, an increase in transaction volumes in the first quarter helped absorb some of the unsold stock that built up in 2008, but 11.9 million sq m of residential space still remains on the Beijing market.
"(Pent-up) demand that accumulated last year has found release in the first four months," said Li. "But even though rising property sales brought in some investment-oriented buyers, rapidly growing prices will probably drive them away again."
Potential buyers are still sensitive to pricing, and with so much unsold inventory on the market, prices are expected to be flat for the next couple of months, said a DTZ report.
In fact sales have begun to slow in response to rising prices.
According to Soufun, China's largest real estate website, transactions of both new and pre-owned homes declined in May, with 76 percent of China's 20 major cities recoding drops in sales. Nine cities registered declines surpassing 10 percent.
Data from the Beijing Real Estate Transaction website showed that 13,841 units for forward delivery were sold in the capital last month, down from 15,500 units for April, a drop of 10.7 percent. It was the first time this year that Beijing recorded a decline in new home sales.
But some experts are more optimistic about the real estate sector in the next six months.
Wang Tao, chief economist of UBS China, believes that the mass residential market will be well on the road to recovery in the second half of the year.
"We didn't see an oversupply in the mass residential market and the home purchase demand from middle and high-income buyers remains robust," said Wang.
Zhou Chunsheng, professor at the Cheung Kong Graduate School of Business, said the property market has stabilized and is set to grow steadily.
He cited credit expansion as one of the major reasons fueling the warming property market, but said credit will tighten in the remaining quarters of the year.
Still, decelerating lending is unlikely to impact property prices much, he said, with China's recent bull run stock market likely to show the effect of wealth that was created in housing sales.
Fears of inflation are now growing due to the government's loosening of monetary policy and investors think real estate remains a hedge against inflation, the DTZ report said.