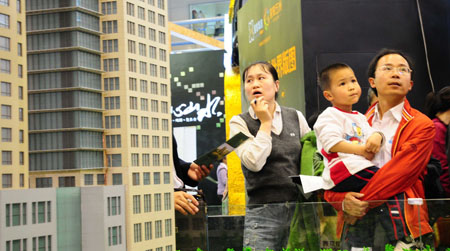 Visitors at a recent property show in Beijing.[Fan Jiashan]
New home sales in Beijing experienced a decline last month, the first fall in 2009, as the hike in property prices led to some buyers adopting a wait-and-see attitude.
Though property developers bet on the Dragon Boat Festival to boost sales, they failed to get a positive feedback.
Related readings:


 China to collect home sale gains tax before transaction is completed


 Beijing property prices flat


 Report: Beijing property prices 'to fall'


 Beijing property tax revenue drops 10%
Data on the Beijing Real Estate Transaction website showed that an average of 366 units of forward delivery housing, with a floor space of 42,000 sq m, were sold each day during the three-day holiday. That represents a drop of 1.1 percent and 4.5 percent compared with the daily average sales in May.
Property sales for the whole month were not encouraging as well. According to the same website, 13,841 units of forward delivery housing were sold in the capital last month, down from 15,500 units for April, or a drop of 10.7 percent month-on-month.
It is the first time this year that Beijing has experienced a drop in new house sales.
Home prices, however, have maintained a steady growth since March. Statistics from the National Development and Reform Commission showed that property prices in 70 major cities climbed 0.4 percent month-on-month in April, with the growth rate being 0.2 percentage points higher than the previous month.
A number of developers increased the unit prices of their projects in Beijing, with some of them even pushing up rates by nearly 20 percent.
"Big price hikes will kill the on-going rebound," said Grant Ji, director, Savills (Beijing). He said the big rebound in the first quarter was largely due to "reasonable" prices post market adjustment.
Li Wenjie, general manager of real estate agency Centaline China's North China branch, said property prices would probably drop again due to the still large inventory.
"Besides, the accumulated demand has had a full release in the first quarter," said Li.
Due to the climbing prices, some buyers, especially those making home purchases for investment purposes, chose to adopt a wait-and-see attitude.
Eric Wang, a 34-year-old company executive, said he was not going to make a purchase in a hurry as the rapidly climbing property prices would make the investment more risky.
Wang, who has a three-bedroom apartment in Chaoyang district, planned to buy a two-bedroom apartment in the capital's CBD area as an investment betting inflation would be around the corner.
Yang Hongxu, head of the Comprehensive Research Department of the E-house China R&D Institute, said it was not necessary for people to purchase a home right now to fight inflation this year.
"In the short term, the risks of deflation weigh over inflation and the asset prices are not likely to see a big rebound," said Yang.
The government's recent announcement of more research on the levy of property tax also drove away some investors from home buys.