China made progress in reducing its energy use last year, according to a government report.
Related readings:


 Innovation needed in alternative energy field


 China to boost Russia energy links


 Water, air pollution in China still serious


 Watchdog to inspect pollution along Yangtze River

The National Bureau of Statistics (NBS)'s annual report, released late February, said energy consumption per unit of gross domestic product (GDP) fell 4.59 percent in 2008, slightly higher than the bureau's previous 4.21 percent estimate.
Even a small drop in China's energy use can save tens of millions of tons of coal. The Chinese government had earlier vowed to reduce its energy consumption by 20 percent per 1,000 yuan of GDP from 2005 levels, during the 11th Five Year period (2006-2010). But the country only cut it by 5.38 percent over 2006 and 2007, about a quarter of the five-year target.
But preliminary statistics showed that in 2008 China's emissions of sulfur dioxide (SO2) and chemical oxygen (COD), two major pollutants, have likely dropped 7 percent and 5 percent, respectively, from their 2005 levels.
The country's 11th Five Year Plan requires they be reduced by 10 percent from the 2005 level by 2010. Deputy environmental minister Zhang Lijun said the country may surpass these targets before the deadline.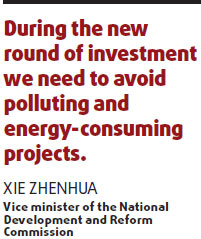 But China fell short of its target reductions of the two pollutants in the plan's first two years. The two indexes dropped only 2.14 and 3.16 percent, respectively, from 2005 level by 2007, less than the expected 4 percent.
Zhang said that the Ministry of Environmental Protection (MEP) has disapproved or postponed approval of 156 polluting or energy consuming projects.
China needs to "sprint" in 2009 to achieve its green goals, said Zhou Shengxian, environmental minister.
The country also closed inefficient production facilities in industries such as papermaking, coal and ethanol, since 2006, said Zhang.
China increased its capacity to treat medical waste (by 6 percent), residential waste (by 8 percent) and daily waste water (by 35 percent) since 2005, he added.
China's investment in ecological protection will increase to 1.53 trillion yuan from 700 billion yuan, according to the plan, and 350 billion of China's 4-trillion stimulus package is earmarked for environmental investment.
"During the new round of investment we need to avoid polluting and energy-consuming projects," said Xie Zhenhua, vice minister of the National Development and Reform Commission (NDRC).
Wang Jinnan, general director of the Chinese Academy for Environment Planning under MEP, said that the package's infrastructure projects must abide by relevant environmental policies from the beginning and environmental assessments of these projects should be stricter.
Environmental protection and energy conservation will likely be a hot issue during the NPC and CPPC annual sessions.
The National Development and Reform Commission has pledged to increase efficiency in the power sector and to push through more fuel price reforms, while closing down inefficient enterprises, echoing similar policies that have been in place for years.
The government vows to work to make the nation greener, introducing regional climate change programs, shutting small coal mines and power plants and continuing to experiment with cap and trade emissions programs.
Its efforts to increase efficiency include plans to enable power trade between provinces and to upgrade urban power grids.
According to the 11th Five-Year Plan, industrial demand for water should also drop 20 per cent from 2005 to 2010, while forests should make up 20 percent of the country's total land area, up from 18.2 percent in 2005.
Many regional governments have already made ecological promises in 2009.
The Beijing municipality proposed decreasing its COD and SO2 by 2 percent and 3 percent in 2009, Hebei province plans to cut COD by 5.5 percent and SO2 by 5 percent while the Inner Mongolia autonomous region plans to cuts its COD and SO2 emissions to 80 to 90 percent of the 11th Five Year target levels.