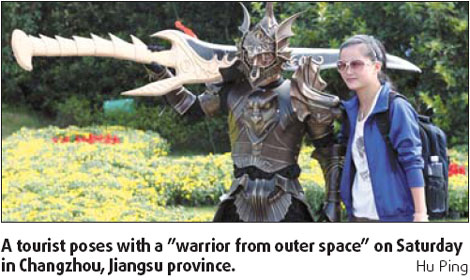 Innovation and cooperation will continue to be the driving force for China's animation industry in the future, said Wang Yansheng, deputy director of China's International Cultural Exchange Center.
Many experts and scholars echoed the view at a forum on animation and cartoon industry held during 2008 China (Changzhou) International Animation Art Festival that opened on Saturday and will run until October 5.
Over the past few years, China's animation and cartoon industry has witnessed rapid development with application of new technology and resources. Many animation and cartoon companies have sprung up across the country, producing thousands of cartoon programs every year.
"But what we lack most is the power of imagination and innovation, which are indispensable in creating animation works," Wang said.
Though these companies churn out many programs every year, many of them are adaptations and only a few have their own copyrights.
"We are reviving our animation and cartoon industry, but we really need to produce more programs with intellectual property rights through innovation," said Zang Tanshao, trustee of China Animation Association.
After nearly five years, the festival has become one of the most influential and popular of its kind in the country, and has created some cartoon brands with their own intellectual property rights.
"We chose to develop the animation industry because we have rich resources in terms of both creative personnel and technology in the city," said Qu Liqin, vice-mayor of Changzhou.
The government has given enormous support to the industry in terms of financial aid and preferential policies.
After years of development, the city's animation and cartoon technology has improved greatly, and now focuses mostly on R&D and innovation to produce more programs with property rights.